We've just found the perfect Elden Ring mod for anyone who wants to boycott Hogwarts Legacy, but doesn't want to miss out on the fun of a Harry Potter RPG. Allow us to introduce Harry Potter and the Elden Ring.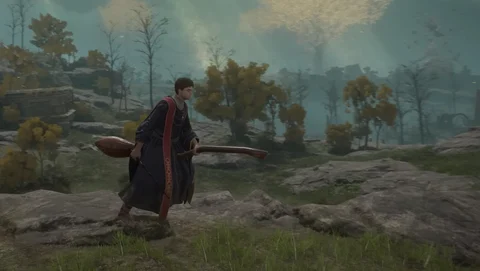 As you've almost certainly noticed, the launch of Hogwarts Legacy has been marred by controversy. Yes, it has admittedly been a huge commercial and critical success, but at the same time, there's a very large group of boycotters who are opposed to Hogwarts Legacy. Early this week, they were even able to make VTuber Silvervale cry on streamfor playing the game!
If you too are boycotting Hogwarts Legacy, but you want to play a Harry Potter RPG, we may have found a solution. Allows us to introduce the Elden Ring x Hogwarts Legacy mod...

Garden of Eyes Mod Turns Elden Ring Into Hogwarts Legacy
Elden Ring modder Garden of Eyes has just released a new mod called Harry Potter and the Elden Ring, which combines the world of Elden Ring with the mechanics of Hogwarts Legacy. It's quite an advanced mod and includes both spells and broom travel.
Here's a video showcasing the mod:
As you can see, it's not perfect, and it definitely still needs some additional features, but it's a promising start. You can get hold of the current version (1.02) by subscribing to Garden of Eyes on Patreon for as little as $2.50 a month.
Were you boycotting Hogwarts Legacy? And if so, does this mod seem like a good way to play the game while staying true to the cause? Speaking of boycotts, it looks like Atomic Hearts is next on the chopping block...
Hopefully Harry Potter and the Elden Ring will one day include wand customization like this: