Hate raids have become a constant thing for any content creators streaming Hogwarts Legacy. While their cause may be noble, it seems that activism has gone too far and cannot even be considered a 'good cause' anymore. Content Creator Silvervale breaks down on stream after the harassment got too much for her.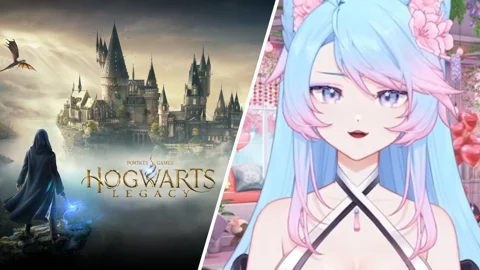 Hogwarts Legacy is the most controversial game to have come out in a long time. Due to Harry Potter creator J.K. Rowling spouting offensive anti-trans narratives on her social media, many have called upon a boycott of the game, since the creator still gains royalties even though she wasn't involved in the game at all.
This call for a boycott from trans-allies and trans people themselves, seems to have catapulted the game into notoriety, making it one of the most watched games on Twitch, with over 1.3 million concurrent viewers when it first came out.
But it has also brought a lot of negativity to those who did stream the game and while the call for a boycott is good, as well as protest against hate, some people seem to have taken their protest too far and started harassing people. Vshojo's Silvervale was even brought to tears due to the harassment she received.
Hogwarts Legacy: Twitch Auto Mod Blocks "Trans" and "Gay"
Twitch VTuber, Silvervale, was brought to tears by the amount of hate she received on Twitter due to her recent Hogwarts Legacy stream. To try and keep as much hate and harassment as possible out of her stream she implemented Twitch's auto mod to combat hate raids, something which has happened to a lot of streamers who played Hogwarts Legacy.
What she did not know was that one of the words Twitch's auto mod would censor was the word "trans" which led many, who didn't know it was the auto mod, to believe that she banned the word from her stream. In a Discord post she explained that she did not deliberately ban the word and later addressed the issue in another stream once more.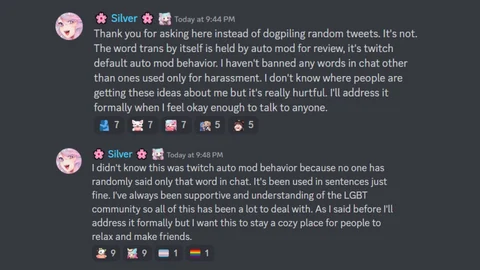 On stream, Silvervale talked about the issue once again, explaining that "trans" and "gay" fall under the level 2 moderation filter since they're often used in a hateful way and to incite harassment on Twitch. She also explained that she and her mods did not know about this, "I had no idea, my mods didn't know! None of us knew. They felt it necessary to post on Twitter before telling me or my mods, because they did it purely for hatred!"
Silvervale Breaks Down on Stream
In a recent stream where she addressed all the backlash and hate she received, Silvervale broke down, sobbing, clearing up why she was streaming Hogwarts Legacy in the first place, explaining how much the world of Harry Potter meant to her and how it brought back the nostalgia of her being a little kid again reading the books.
It was my whole childhood. It was a world to escape to and after every book release I'd wear my little robe and scarf with my best friends... and it was my whole world. I didn't have a great childhood and Harry Potter made it so much better.

She also added that it sucks that the game and the world of Harry Potter has ties to such hateful ideas, hinting at the discourse surrounding J.K. Rowling and her anti-trans views.

While it is important to bring light to the issue at hand, it seems like many are going about it the wrong way, sending death threats and harassing content creators online, instead of trying to educate them. It is right for people to criticize those choosing to play the game, but bullying and harassing them is a whole other level.
Hogwarts Legacy continues to be a hot topic amongst video game fans and will continue to be so for a while. It has broken records and has captured the hearts of many, but will also continue to be criticized by others. So, where does the line end between harassment and educating others?

This article contains affiliate links which are marked with [shopping symbol]. These links can provide a small commission for us under certain conditions. This never affects the products price for you.