Hogwarts Legacy is probably the most controversial game of 2023. Now, as the release is closing in, more people are curious about the game and some even get to play, and stream, it early for everyone to watch.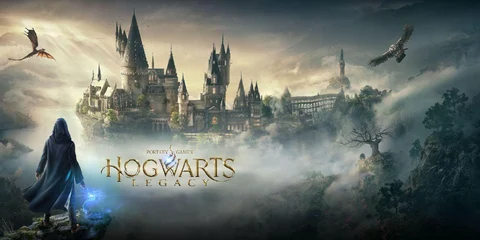 You could say that this game is popular... right? Hogwarts Legacy is probably the most talked about game in a long time, not only for it's in-game content, but all the drama surrounding it outside of the game.
People are split, whether to support the game of a world they grew up with as children, or boycott it after the creator of the Wizarding World of Hogwarts, J.K. Rowling after she continuously made transphobic remarks, almost wearing the term TERF (trans-exclusionary radical feminist) like a badge of honor.
Hogwarts Legacy: Rises to the Top of Twitch Viewership
Even though there has been a call to boycott the upcoming Hogwarts Legacy from a large amount of content creators, as well as just people that are part of the LGBTQIA+ community, it seems that it has only given the game more publicity, which has led to this huge jump in numbers.
As of writing this article, Hogwarts Legacy has cracked the 1-million viewership mark and sits at 1.1-million concurrent viewers. Second place? Just Chatting with just over 500K viewers.
Hogwarts Legacy Not Even Officially Out Yet
The game is not even officially out yet, but with people buying the pre-order version which lets them play it early, as well as content creators getting copies for free from the developers, many can already stream and make content about the game, hence why three days ahead of the official release it's already the most viewed game on Twitch.
With the amount of discourse surrounding the game, as well as some incidents like one streamer having to stop his stream due to getting bullied in chat, Hogwarts Legacy continues to be a polarizing game.
J.K. Rowling has outright said that any of the royalties made will go into anti-trans programs and she has never shown any remorse for the way she has talked about trans women. Even though the developers of Hogwarts Legacy have distanced themselves from J.K. Rowling, stating she had nothing to do with the development of the game, it still takes place in the world she created and she profits off of.
Of course, the call for a boycott has also encouraged thousands of others to buy the game and play it, just to spite those who are asking for it to not be shown.
So, while the discourse continues one thing is for sure – Hogwarts Legacy has some insane viewership numbers to kick off the game. Now let's just hope it actually runs on PC.
This article contains affiliate links which are marked with [shopping symbol]. These links can provide a small commission for us under certain conditions. This never affects the products price for you.