Hogwarts Legacy is one of the most anticipated games in 2023 – the wait is almost over, and you can pre-order it right now. But wait, better take a closer look at the different Standard, Deluxe and Collectors Editions and what they have to offer, first.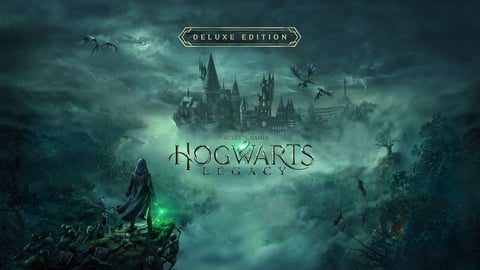 After some unfortunate delays, the time has finally come: Hogwarts Legacy will be released worldwide soon and lets us immerse ourselves in a beautiful Wizarding World we've never seen before. We at EarlyGame are hyped. The community is HYPED. Actually, everyone who is in the mood for an awesome single-player RPG in 2023 is hyped.
As is the norm these days, publisher Warner Bros. makes you choose from three different versions of the game. You can decide between a Standard, Deluxe or Collector's Edition of Hogwarts Legacy. We'll show you the individual content, go into the advantages of the more expensive versions, and tell you the price of each.
Hogwarts Legacy Standard-Edition
As the name suggests, the Standard Edition is the most affordable version of Hogwarts Legacy. Depending on the platform you choose, you have to pay between $60 and $70 – if you own a Nintendo Switch and plan to play the game there, it will be a bit cheaper.

If you pre-order now, in addition to the base game, you will also receive a few items and mounts that will give your magician's apprentice a little help in-game. You can start your journey through Hogwarts and the huge areas surrounding it on February 10, 2023, when the RPG officially gets released.

Base Game
Onyx Hippogriff
Felix Felicis Potion Recipe
Haunted Hogsmeade Shop Quest
Hogwarts Legacy Deluxe-Edition
The slightly more expensive Deluxe Edition has two main advantages that should encourage you to purchase the game: On the one hand, you can play 72 hours in advance, what means that your adventure will begin on February 7, 2023. On the other hand, the Dark Arts Pack is included, which provides some extra content.

Well, this might be a controversial way to sell your product (we don't like it either), but it is what it is. Among other things, you can compete in the Dark Arts Battle Arena, which the developers have already shown in detail. We linked the video for you above.
On average, the Deluxe Edition costs $10 more than the standard version.

Base Game
72 Hours Early Access to the Game
Onyx Hippogriff
Felix Felicis Potion Recipe
Haunted Hogsmeade Shop Quest
Dark Arts Pack (Thestral Mount, Cosmetic Set, Battle Arena)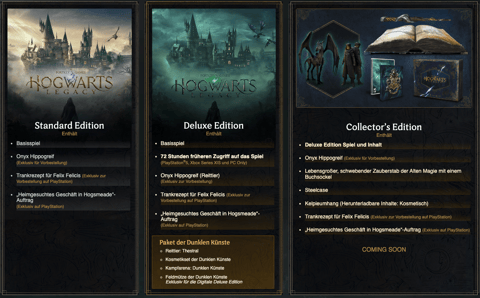 As the developers have stated, there won't be any microtransactions in Hogwarts Legacy. However, what you can always buy separately and at any time is the Dark Arts Pack. If you're unsure about the game, you can first test the cheaper Standard Edition and then purchase the extra content afterwards. It's never too late for some awesome Dark Magic.

Hogwarts Legacy Collectors-Edition
You're a hardcore fan of Harry Potter and the Wizarding World? You've read all the books, watched the films, and always wanted to play a game like this? Then the Collectors Edition might be for you! It's quite expensive, though... you'll have to pay a whooping $289 on PC and PS4/Xbox One, and an eye watering $300 on PS5 and Xbox Series X.
Anyone who still collects Steel Cases in 2023 (although you get a digital code anyway) can do so with the Collectors Edition. The highlight, however, is probably a magic wand that hovers a few centimeters above a magic book with the help of... magic (a magnet). We bet it looks pretty dope, though.

Deluxe Edition Game and Content
Onyx Hippogriff
Life-Size Floating Ancient Magic Wand with Book Base
Steel Case
Kelpie Robe (Cosmetic DLC)
Felix Felicis Potion Recipe
Haunted Hogsmeade Shop Quest
How And When To Pre-Order Hogwarts
If you plan on playing Hogwarts Legacy on either PC or PS5/Xbox Series X|S, you have to pre-order until the game releases to get the bonus content. However, if you're still using an older console (April 4, 2023) or only play on the Nintendo Switch (July 25, 2023), as the release date of Hogwarts Legacy got delayed.
Either check out the official Hogwarts Legacy website or head straight to your preferred online store to buy the game. Now you only need to decide for one of the three editions, choose your platform, and you're good to go on an amazing adventure in the Wizarding World!

This article contains affiliate links which are marked with [shopping symbol]. These links can provide a small commission for us under certain conditions. This never affects the products price for you.