Hogwarts Legacy is set in the world of Harry Potter, but the story has nothing to do with either He Who Shall Not Be Named or the Boy Who Lived. We've provided an overview of the setting, the plot, and the main characters below.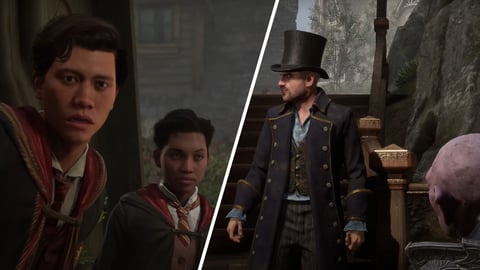 Hogwarts Legacy will be released soon, well, at least for PC and current-gen consoles (PS4, Xbox One, and Switch users will need to wait a little longer). And in preparation for the launch, Portkey Games have been sharing a ton of info to get Harry Potter fans hyped for the new RPG. They've told us about the mounts, spells, potions, monsters, and now, even the story of Hogwarts Legacy!
In this article we'll go through everything we know so far about the overarching plot of the game, the setting, and the characters. So, obviously, if you want to go into the game fresh, stop reading here. We won't insult your intelligence with a bolded "Spoiler Warning" message.
When Does Hogwarts Legacy Take Place?
Hogwarts Legacy takes place in 1890 at Hogwarts School of Witchcraft and Wizardry. There are other locations in Hogwarts Legacy as well, but the vast majority of the game is set in and around the castle.
The school itself will look much the same as you remember it from the Harry Potter novels and films, but all the characters are new. There are one or two ancestors of characters we already know, for instance, there's a Weasley teacher, and Nigellus Black is the headmaster, but more on characters later.
What Is The Plot Of Hogwarts Legacy?
In Hogwarts Legacy we have two plots running side-by-side. The first revolves around your character's own personal development as they learn about the secrets of their ancestors, who were part of an ancient magical bloodline. In these quests, we will pair up with Professor Fig to discover more about the ancient bloodline, and the dangerous form of magic this bloodline's members can wield. They clearly want to give us an experience similar to Harry and Dumbledore's search for the Horcruxes.
The second and more widely-relevant plot follows a goblin rebellion. A group of evil human wizards are helping the goblins, but until later in the story you have no idea why. Goblins will make up a large proportion of the enemies you fight, and much of the open-world exploration will involve clearing goblin hideouts.
And you'll be discovering a large part of the Hogwarts Legacy story on one of these sick mounts:
Who Are The Heroes & Villains Of Hogwarts Legacy?
You will make your own character, and you will be aided by fellow students at Hogwarts and the teachers themselves. While the main enemies you're fighting against are Ranrok, leader of the Goblin Rebellion, and Victor Rookwood, a mysterious dark wizard who helps the goblins for an unknown reason. You can read more about these characters beneath.
Heroes
Main Playable Character
Your character is a fifth-year student who's starting school late. Within you is an "ancient secret that threatens to tear the wizarding world apart". But what does this really mean? Your character is from an ancient bloodline and is therefore one of the few people left in the Wizarding World capable of wielding a darker, older, form of magic. Your character will learn about this bloodline in the first part of the game, and then will decide whether to wield or reject it in the second part.
Companions
There are three different students in the game who can become your companions, and will go with you like henchmen on missions. You can only party up with one at a time, and by spending time with each of the companions they will be able to offer you their own quests. They each have their own stories and their own goals, so we think most players will find it rewarding to engage with the companion mechanic.
Here are the companions in Hogwarts Legacy:
Slytherin Companion: Sebastian Sallow
Gryffindor Companion: Natsai Onai
Hufflepuff Companion: Poppy Sweeting
All the companions are stereotypical of the houses they come from. The Slytherin student is ambitious, the Gryffindor student is brave, and the Hufflepuff student is kind.
Teachers
With the exception of headmaster Nigellus Black, who was famously despised, the teachers in Hogwarts Legacy are kind, friendly, and helpful. Only Professor Fig will help you directly in the story, but the other teachers will be a big part of the game as they will teach you new spells, potions, and abilities.
Here are the teachers of Hogwarts Legacy we know about so far:
Eleazar Fig is the professor who investigates your ancient bloodline.
Abraham Ronen is a charismatic old Charms professor.
Dina Hecat will teach Defence Against the Dark Arts.
Mirabel Garlick is the young Herbology professor, who is no doubt connected to Hufflepuff.
Natsai Onai's mum, who we don't have a name for yet, teaches Divination.
Aesop Sharp was actually an Auror, but he's now the Potions professor.
Cutherb Binns, from the Harry Potter books, is back as the History teacher (he's a ghost, so it makes sense).

Shar will teach Astronomy.
We have seen other professors so far, including for Potions and Herbology, but we don't have their names yet. Thankfully, though, the potions' teacher actually seems quite nice, for a change.
Villains
Ranrok
Ranrok is the big bad evil guy of Hogwarts Legacy, who is planning to rebel and overthrow the Ministry of Magic. While goblin rebellions of this kind were common in history, according to Harry Potter lore, Ranrok is a wholly new and invented character for Hogwarts Legacy. Ultimately, this game is about stopping Ranrok.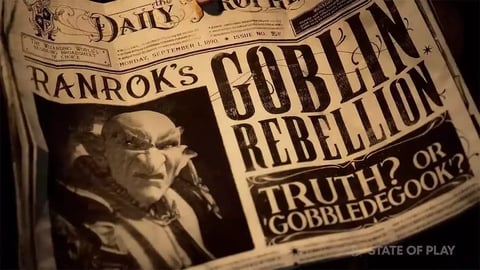 Victor Rookwood
Victor Rookwood commands a group of dark human wizards, and he is secretly meeting with Ranrok and helping him mobilize forces for the rebellion. But why exactly he's doing that is unknown and must be discovered by the player. Rookwood will use spells like us, which is going to make the final boss fight tough, but as a human he lacks the magical resistance of his goblin counterpart.
And there you have it, Witches and Wizards, a quick overview of the story in Hogwarts Legacy. Do you think it sounds compelling? Or, would you rather they had given us something connected to Harry Potter and Voldemort?
This article contains affiliate links which are marked with [shopping symbol]. These links can provide a small commission for us under certain conditions. This never affects the products price for you.