Unlike on PS5 and Xbox Series X, The PC performance of Hogwarts Legacy seems to be problematic, as was shown by multiple reviews for the Harry Potter game. At least, there are a couple of things you can try out to fix the performance problems.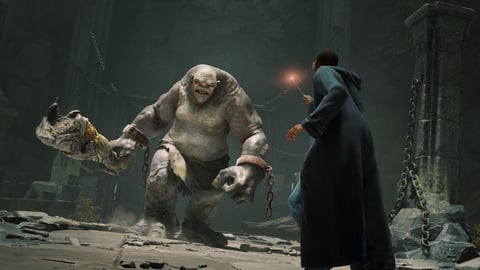 Hogwarts Legacy is releasing very soon, and on February 6 we finally got the first wave of reviews for the much-anticipated Harry Potter RPG. While the reviews are generally very positive, reviews playing the game on PC complain about massive issues with that version of the game.
Hogwarts Legacy PC Performance: Massive Frame Drops And Graphic Bugs
There have been many botched PC ports recently (just look at Forspoken, among many others) and Hogwarts Legacy seems to be the latest one. The reviews which tested the game on PC unanimously criticized the game's performance.
If these issues are a bummer to you, check out some other great games coming out this year:
The article by NME is one which highlights the biggest issues, including massive frame drops, weird flickering and other annoying bugs:
Walking into certain areas will see trees violently shaking themselves like a malfunctioning Whomping Willow, obscuring vision as the framerate drops into the single digits. Walking into Hogsmeade's town square early in the game every NPC in the square started to shimmer in and out of existence, flickering wildly as the trees slowly grew and shook until basically nothing could be seen. This was one of the worst moments that we saw in terms of performance, but bugs of that calibre were common during the 20 hours we spent with the game. Many sections had poor framerates, making tough jumping puzzles and combat difficult with unpredictable stuttering.
This sounds gnarly and like a huge bummer. If you want to see the terrible performance in action, you can do so in this video by German publication GameStar, which is currently the best showcase for the mentioned issues.
The PC requirements for Hogwarts Legacy are pretty demanding, but nothing ridiculous for a brand-new game. This seems like a technical issue, but we could only speculate about the cause. Patches should fix these issues soon after release.
Hogwarts Legacy: How To Fix Low FPS Problems On PC
Looking at discussions on Reddit, it seems that in most cases the frame rate drops are related to two settings:
Ray Tracing: Just disable it for once to find out if the game runs as originally intended now. If it does, you'll most likely have to wait for a patch that makes the game smoothly playable with Ray Tracing turned on.
DLSS: You can try changing some DLSS settings to get higher FPS. You should also check if there is an update available for your DLSS version.
Furthermore, you can try to turn off V-Sync in the game and see if this has any effect. Vertical sync is intended to synchronize the game's framerate with your monitor, and though it sounds like this is exactly what you want in a game, it can cause problems that result in more less the opposite effect.
As soon as there are new solutions, you'll read it here.
This article contains affiliate links which are marked with [shopping symbol]. These links can provide a small commission for us under certain conditions. This never affects the products price for you.