You can find all the information you need to preload Hogwarts Legacy below, including the download size.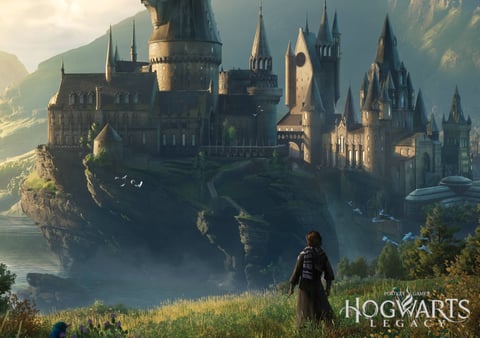 Hogwarts Legacy is out soon! And as fans debate whether to pre-order the latest Harry Potter RPG or not (PlayStation users probably should for all the PS-exclusive content), we need to start addressing practical matters.
In this article, we'll go over everything you need to know about pre-ordering Hogwarts Legacy.
When Can You Begin Pre-Downloading Hogwarts Legacy?
PS5 and Xbox Series X/S-users can begin pre-downloading the game already, but PC users will not be able to predownload the game before launch. If you're on Switch, PS4 or Xbox One, then you'll need to wait even longer as these platforms will only receive the game at a later date.
The game itself isn't obnoxiously large for a 2023 AAA, so the actual download time shouldn't be too horrendous unless you have slow internet.
Obviously, you need to pre-order the game digitally to pre-download it. But, if you prefer physical copies, you can buy Hogwarts Legacy here.
How Can You Preload Hogwarts Legacy?
Here is how to pre-download the game on the currently available platforms.
Xbox Series X/S
Here's how to preload Hogwarts Legacy on Xbox Series X/S:
Navigate to the "Xbox Store" and open it.
Search for "Hogwarts Legacy" and select the game.
Purchase the game as a pre-order.
Once purchased, you can select "Download" on the game's page in the store.
Easy-peasy.
PlayStation 5
And here's how you can pre-download on PlayStation:
Navigate to "Library" and open it.
Find the pre-ordered "Hogwarts Legacy" title in your library.
Select "Download" on the game's page.
Done. Now you just need to endure the final period of waiting.
How Big Is The Hogwarts Legacy Preload?
The Hogwarts Legacy preload is 76.67 GB on Xbox and 79.534 GB on PlayStation, which is pretty much exactly what you'd expect for an RPG these days. But lease beware, there's going to be a day-one patch, and we have no idea how large it will be.
Will you be pre-downloading? Or will you wait for reviews? And if you're still unsure about your first playthrough, here's a guide to choosing the best Hogwarts House for you.
Not hyped enough for this game yet? Just check out some of the mounts we can collect:
This article contains affiliate links which are marked with [shopping symbol]. These links can provide a small commission for us under certain conditions. This never affects the products price for you.