Elden Ring is one of the most challenging games in recent years, and many streamers had a hard time with it. In the meantime, however, there have been a bunch of players who have shown us in just how many ways you can beat the game. The following streamer took it to the extreme, though.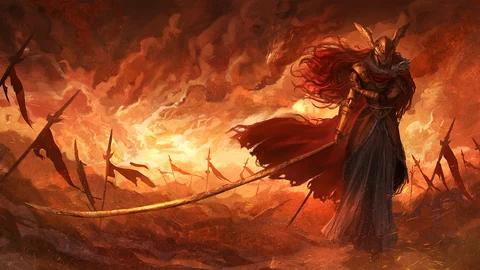 By now, there have already been a bunch of streamers who have managed to play through Elden Ring. And even the craziest challenges have been defeated, but one woman took the song "Brain Power" a bit too serious and beats the game in a legendary run live on Twitch.
This Elden Ring Run Is Literally Mind Over Body
After an endless number of failed attempts, perrikaryal finally did it: she played through Elden Ring with mind control. Since the beginning of this year, a streamer called perrikaryal draws a lot of attention for her mind-blowing idea on how to beat Elden Ring. Not that the game is difficult enough anyway, she decided to bring it to the next level.

Equipped with an EEG on her head, she is fighting her way through the Lands Between. Despite a bumpy start, she managed to get used to this weird kind of control set she was using.
I finally beat Elden Ring using only my mind for everything but movement. Here are some highlights from yesterday's stream. Thanks to everyone for their support, including @emotiv I've already started the next project... stay tuned pic.twitter.com/7jwSYJ8unH

— Perri (@perrikaryal) April 19, 2023
It is so interesting to watch her Power Meter go up and down when she is attacking or healing her character. While watching the stream, it is easy to notice that she does use a standard controller as well, but only for movement purposes. When to hit or to heal, is purely determined by her mind, and it took her a lot of training to achieve these unbelievable results!

Perrikaryal Is Putting Her Mind To The Test
Maybe we should take a closer look at perrikaryal and her techniques. Perri is a streamer on Twitch who is living in the UK. She has a Master's degree in Psychology and is particularly interested in Electroencephalograms: EEG. This device is normally used to detect brain disorders like Epilepsy, but she made use of it in a completely different way.
By picking on electrical activity from her brain via the sensors attached all over her head, she can train the EEG to recognize certain brain patterns and transform them into actions within the game. Truly fascinating! She explained that: the "EEG isn't very good at placing where signals are coming from", but she later found out that the device is excellent at noticing WHEN the needed signals are happening. This allows her to trigger her attacks or heals with her mind only.
Perri claims that she had a lot of training to do over the last few weeks to make her experiment work, but in the end she did it!
She describes that there were numerous times when the EEG didn't want to do things her way at all and felt like her "brain is broken". She figured out that in order for her character to attack, she had to imagine "pushing something heavy forwards".
And also for the future, she seems to have quite a few plans with her new toy. Someday, she would like to be able to play games without using her hands at all.
Hang tight for what's next: completely hands-free Mario Kart, Super Smash Bros., and the new Elden Ring DLC. No controller needed; all mind control. I'm also soon launching a psychological isolation experiment live on Twitch. You can follow my progress on all of this there!

— Perri (@perrikaryal) April 19, 2023
We are extremely excited to see what her next project will be and how she progresses even further in her unique researches. Hopefully she will take us along on her journey! We will let you know about her next moves as soon as possible!
This article contains affiliate links which are marked with [shopping symbol]. These links can provide a small commission for us under certain conditions. This never affects the products price for you.