GoldenEye 007 is a classic, and as we all know: The gaming industry loves to remaster a classic. Well... here we go.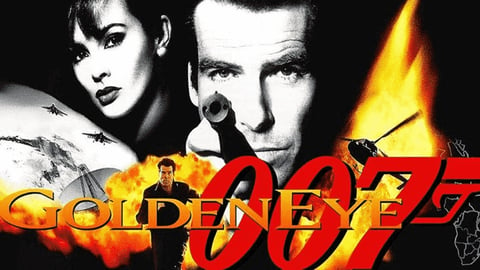 [Update, July 11, 2022]
If you got anxious that this game might not be coming after all, don't be. The GoldenEye 007 remaster/remake is coming... the problem is when it is coming.
According to Jeff Grubb, the game is currently in limbo because of the ongoing war between Russia and Ukraine.
Goldeneye is still in limbo because of the war. 1 v 100's team lead left Microsoft. I don't know what that means for the game.

— Jeff Grubb, No. 3 games journalist (@JeffGrubb) July 10, 2022
Not good news, but at least the game is still in the making... or let's hope it is. As Jeff Grubb said, nobody knows what this news means for the game. We're hoping it'll come eventually, even if we have to wait another 5 years for it.
[Original Article]
Not sure if you knew, but the main reason it's been so hard to remaster GoldenEye 007 is because of the legal drama surrounding it: The rights are held by Nintendo, Microsoft and MGM, which all have to approve a potential remake. While 3 parties agreeing on something doesn't sound hard on paper, it's extremely difficult when that many money-hungry companies are involved. Luckily for us, this year is James Bond's 60th anniversary, and it seems the occasion has prompted everybody to play ball.

[Update: June 7]
A few months ago, we already reported on a GoldenEye 007 remaster or remake coming to modern consoles (scroll down to see the original story). Now we got another bunch of leaks and reveals, and yes folks: GoldenEye is coming back very soon!

This time, we have to thank the Reddit detectives for the scoop. Avid sleuths have found out, that people associated with developer Rare have unlocked achievements for a new version of GoldenEye 007 on Xbox. You know what that means, right? GoldenEye is coming to Xbox, obviously.
We might also have a potential reveal and release date. Business insider expect this game to be shown this week, either at the Summer Game Fest or at the Xbox showcase. Both are happening this week, so in mere days we will know the truth, folks.

[Original Story]
GoldenEye 007 Remaster Coming This Year
So, this one goes back to earlier this year: In January, Rare devs (the company Rare, not 'rare' devs), unlocked some Xbox achievements for GoldenEye 007. Last year, Microsoft had confirmed that it had to shelve a classic N64 remaster due to licensing issues. Of course, this came after a working build for a cancelled GoldenEye 007 remaster was leaked onto file sharing sites earlier in the year.
So, yeah... the writing's on the wall, and now Jeff Grubb believes that Microsoft is about to officially announce the GoldenEye 007 remaster:
I think that Microsoft is going to be the one to announce that first. I think this game is probably coming pretty soon, I'm thinking next couple of weeks.
How about them apples? Now we just need that Moon Knight game – or that Austin Powers game – and we're set with all the spy-action we could ever need.