The developers of Scalebound are hoping for their game to be revived. Will Microsoft listen to their pleas?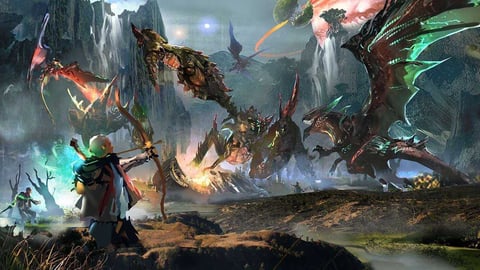 Scalebound is a fantasy game wherein you get to play a headphone wearing hero rushing all over an open world map. The hitch? Your partner in this game is a giant dragon. Yes, you read that right, a giant dragon. No wonder the hero is so cocky, right?
You've probably never heard of Scalebound though, even if it sounds extremely fun, unique and cool. That's because the Xbox exclusive game was cancelled in 2017. So why are we even talking about it?
PlatinumGames Wants to Work With Microsoft to Resurrect Scalebound
For anyone who is aware of Scalebound, then you will know that PlatinumGames president Atsushi Inaba and Scalebound creator Hideki Kamiya deeply regret the cancellation of the open-world fantasy game.
In a recent IGN Japan interview the two pleaded their case once more, even addressing Phil Spencer, CEO of Microsoft Gaming directly — and yes I used my extensive Japanese I picked up through years of watching anime to decipher the interview.
I'd like to appeal to Phil Spencer direstly! Let's do it Phil!
Kamiya has regretted the cancellation of the game and has been quite vocal about it, apologizing to Microsoft and especially the fans for the cancellation. Now, he is hoping that directing the message straight to the big man himself, he and his studio can gain a second chance at reviving the game.
Will Scalebound Be Made?
It seems like both Kamiya and Inaba are serious about making Scalebound. In the same IGN Japan interview, they state that they want to reopen talks with Microsoft.
Often in an interview you might hear a developer politely saying, 'Yes, if we had the opportunity we'd love to work on that again', but we don't mean it that way. Both Kamiya and I are serious – we really would love to work on Scalebound again. I'd like to discuss it with Microsoft properly.
Not only are they willing to bring back the game, the developers also explained that before cancellation, they'd already progressed a fay way into making Scalebound. Sure, graphics from 2017 won't cut it in 2022, but with a lot of groundwork done, bringing the project back to speed wouldn't be too hard.
Whether Microsoft will agree is not yet announced, but the Japanese studio, known for their work on the Bayonetta series, is desperately trying to get the ball rolling on Scalebound once more. Honestly, I would play that game. A dragon as my best friend in a fantasy setting? Yes please!