The Harry Potter franchise is to be expanded even further, and new reports suggest we might even be getting a TV series based on Hogwarts Legacy.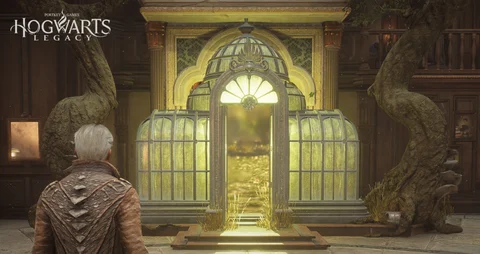 As we all know, Warner Bros. failed to replicate the success of the "Harry Potter" film franchise with the lackluster "Fantastic Beasts" spinoff trilogy. Luckily for WB, the newly released video game Hogwarts Legacy, produced by Warner Bros. Games and Avalanche Software, has proven to be a hit with Potterheads since its Feb. 10 release. And although official sales figures have not yet been released, the game's popularity is beyond question at this point.
As the president of Warner Bros. Games, David Haddad, has confirmed, player engagement has been spectacular. So far, there has been over 267 million hours played, 393 million magical plants grown, 242 million potions brewed, and 1.25 billion Dark Wizards defeated as of Tuesday. Which is exactly why Haddad wants to make Hogwarts Legacy a franchise, complete with a TV series.
Hogwarts Legacy Series
As first reported by GiantFreakinRobot, Hogwarts Legacy will be getting its own TV series in some form. Little is known about the series, but it is presumed that, like the game, it will be set before the events of the Harry Potter novels and Fantastic Beasts spinoffs, taking place in the 19th century and featuring semi-familiar names such as Professor Matilda Weasley.

However, the series has already faced doubts by those who fear it will perpetuate antisemitic themes. As was said of the game, the portrayal of Goblins is based on antisemitic stereotypes and the hero's goal is to suppress a Goblin rebellion. And beyond these concerns, there is still the potentially-transphobic elephant in the room, J.K. Rowling. But the head of WB, is pushing on with Hogwarts Legacy, because he sees it as a long-term franchise for the company.

David Haddad: "Hogwarts Legacy Is A Long-Term Franchise"
David Haddad expressed deep satisfaction with the game's initial launch and foresees a promising future for it on other platforms.
However, the release of the game has sparked controversy within the Harry Potter fandom due to author J.K. Rowling's perceived offensive views towards transgender people.
"Warner Bros. sees #HogwartsLegacy as a long-term franchise.

'We are very pleased with the initial launch and see a bright future for our other platform launches,' Haddad says." https://t.co/0jLeAthHJw

— Hogwarts Legacy News (@HogLegNews) February 22, 2023
Although Rowling did not creatively participate in the game, she still benefits financially from its sales, causing concern among some fans about whether playing the game supports anti-trans causes.
The situation may become more complicated for Warner Bros. when Rowling addresses her controversial statements on the podcast "The Witch Trials of J.K. Rowling."
Despite this, "Hogwarts Legacy" won't be going anywhere for WB. As David Haddad stated, their goal is to continue to utilize their library of franchises as they develop their future slate of games:
We are fortunate and unique in being able to tell every kind of story at WBD, from fiction to nonfiction, movies to TV, and linear to interactive. Our ability to develop and publish world-class games in-house sets us apart from other entertainment companies.
So there you have it, despite criticism, Hogwarts Legacy is simply too successful for them to ignore. Warner Bros. will probably try to distance themselves from J.K. Rowling, but ultimately, money wins.
This article contains affiliate links which are marked with [shopping symbol]. These links can provide a small commission for us under certain conditions. This never affects the products price for you.