EA has revealed the accessibility and difficulty options for Star Wars Jedi: Survivor. We show you what to expect.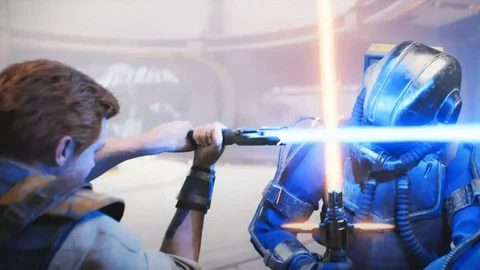 Accessibility and difficulty options are an essential aspect of modern gaming, ensuring that players of all abilities can enjoy the gaming experience to the fullest. In the upcoming game Star Wars Jedi: Survivor, EA has unveiled an impressive range of accessibility and difficulty options that enable players to customize the game to their individual needs and preferences.
These features include customizable controls, different difficulty levels, gameplay modifiers, and more. With these options, players can adjust the game's mechanics to their liking, ensuring that everyone can enjoy the game's story and gameplay in a way that suits them best. In this article, we'll take a closer look at the accessibility and difficulty options available in Jedi: Survivor.
With this controller you can improve your gameplay even more!
Jedi Survivor Accessibility Options & Difficulty Levels Revealed
Jedi: Survivor features five different difficulty levels, each offering a unique gameplay experience. From Story Mode, which allows players to enjoy the game's story, to Jedi Grand Master, which presents a true challenge to even the most skilled players, there's an option for everyone. Whether you're looking for a gentle introduction to the game's mechanics or a hardcore challenge that will test your skills to the limit, you have the free choice.
Story Mode: Little resistance, generous parry times, minimal enemy damage.
Jedi Padawan: More challenging, but still gentler than Jedi Knight, somewhat generous parry times, enemies deal more damage than Story Mode.

Jedi Knight: Challenging adventure, requires honed reflexes to overcome enemies

Jedi Master: More challenging than Jedi Knight, with increased enemy aggressiveness

Jedi Grand Master: The most difficult option, small parry windows, merciless enemies, a true test of skill.

Star Wars Jedi: Survivor (2023) will feature Photo Mode at launch, here are two spectacular shots taken by Sam S. (Lighting Artist) & and @joechavez300 (Gameplay Designer) at a first look on the returning feature...

(via @EAStarWars) pic.twitter.com/iP1nEDuwDb

— Daily Jedi Survivor (@DailyJSurvivor) April 26, 2023
Jedi: Survivor offers a range of accessibility features that allow players to customize the game to their needs. Here are the features you can expect:
Gameplay modifiers: camera option for auto-targeting, button mash options, hold/pull toggles, and navigation assist (including audio pings).
Slow Mode: time is slowed down to make gameplay easier.

Shortcut control: bind specific buttons to perform actions such as slow mode and audio pings.

This article contains affiliate links which are marked with [shopping symbol]. These links can provide a small commission for us under certain conditions. This never affects the products price for you.