The Overwatch 2 Lunar New Year 2023 event is finally here. This year, we celebrate 'The Year Of The Water Rabbit'. We'll show you all available game modes, event skins, and how to get free rewards.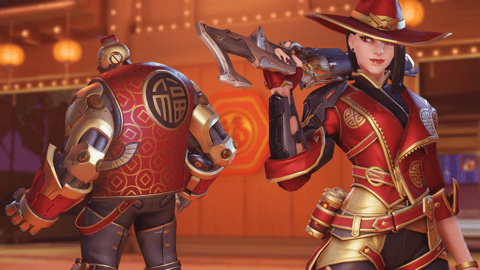 As every year around this time, the Lunar New Year Event has made it to Overwatch 2. This event is known for releasing the most beautiful and spectacular skins of the entire year, and we are very excited to show you what the Lunar New Year event has in store for you this time. Here is everything about the runtime, new skins, game modes and more.

Overwatch 2 Lunar New Year Event: Runtime, Event Skins & Game Modes
The Lunar New Year Event is finally here. Right when everyone is making their final strikes towards the end of Battle for Olympus, Blizzard has initiated the annual celebration of a new Lunar Year. The event will run until February 6, right before season 3 is about to start. Blizzard really doesn't take any breaks between the action, eh?
Overwatch 2 BFO – Get Legendary Winged Victory Mercy Skin For Free

Game Modes
Blizzard has seemingly remained faithful to their traditions by including the regularly featured game modes for Lunar New Year: Bounty Hunter, Capture the Flag, and Capture the Flag Blitz. Three game modes which are quite popular among fans and have always been essential for every Lunar New Year Event.

These are iconic game moments, we want to relive
Event Skins And Free Rewards

Besides the different modes, new skins can't be missing. As we have already seen in the season 2 trailer, Mei is one of the lucky ones to get a brand-new event skin. The Hu Tou Mao Mei Skin is now available in the event shop for 1000 OWC. Besides Mei, every Ramattra fan can also take pride in a new skin. The legendary Biohazard Ramattra skin looks really cool, but will cost you a total 2000 OW coins, which is comparable to $20... But don't worry, if you keep reading, we have other ways for you to get event skins for free.
As the Lunar New Year event is practically known for its epic skins, the output of this year seems a bit poor if we compare it to recent years. Luckily, leaks have shown that there are still two Korean event skins to come in this event.
Overwatch 2 Year of the Rabbit Event Two New Korean Skins are released

Two new Korean tradition skins will be released at the #Overwatch2 Year of the Rabbit event starting on January 17th.

Which hero's new skin do you guys want? pic.twitter.com/p8G3Mjo6K4

— Naeri X (@OverwatchNaeri) January 15, 2023
The Lunar new year skins are unfortunately quite expensive, but what would did you expect, it is Overwatch. But heads up! There are various ways to get some beautiful event skins for free. If you complete four of the available event challenges by February 9, you can earn the legendary Kkachi Echo skin. In addition, you even have the chance to get a legendary Lunar New Year Moira skin via Twitch drops. Check it out here.
In terms of new maps, there seems to be nothing new except for the fireworks on Lijang Tower.
A new controller is a good idea for Christmas: PS5 Controller
Which of the Heroes should be getting a lunar new year skin? Feel free to let us know in the comments.
This article contains affiliate links which are marked with [shopping symbol]. These links can provide a small commission for us under certain conditions. This never affects the products price for you.