A new support hero is coming to Overwatch 2 in season 4. Recently, the developers have shared some interesting details about the newcomer. Here is what we know so far.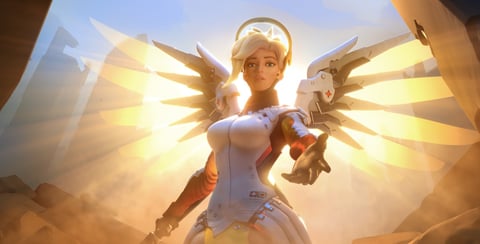 Every other season in Overwatch 2, a new hero is released. Following the announcement of Ramattra for Season 2 in December, Blizzard's Commercial Leader and VP Jon Spector has already mentioned the role of the next hero, who will join the roster in 2023, and it's giving Overwatch 2 fans new hope.
New Overwatch 2 Support Hero Details Revealed
At a Meet & Greet Overwatch 2 event in Seoul on November 14 2022, General Manager Walter Kong and Commercial Lead Jon Spector answered questions about the future direction of Overwatch 2. While talking about the new tank hero Ramattra, Jon Spector also revealed, that the next hero to come in 2023 will be a supporter.
We expect that the next hero will be a more solid support hero. ~ Jon Spector
After the lead hero designer of Overwatch, Alec Dawson, revealed that the new supporter is a character that is already known to us, we now got even more hints from Overwatch 2's executive producer Jared Neuss. He has teased that the upcoming character is cute like Mercy... Whatever that means.
According to the fact that this character has been introduced to us before, we can definitely rule out some "non-cute" characters... With recent hints in mind, it is unlikely that we will get heroes like Mauga, or Maximilien... Definitely not so cute ones.
This article will give you an overview of possible characters that might come to Overwatch 2 soon:
New Overwatch 2 Hero Release Date
As we know, Blizzard will release a new hero every other season. Since Ramattra came to Overwatch 2 with the second season in December, this support hero will join the hero roster with the launch of season 4 on April 12. But it's about time that we get some more supporters in the game because the selection that is currently available is just poor, sorry.
Next Overwatch 2 Hero confirmed to be a brand-new Support

With a new hero every other season, we can expect this new support hero to join the roster after Ramattra, in April 2023 with Season 4.

Source: https://t.co/8AZlqPwYHv pic.twitter.com/ZfhzAqyv9d

— Overwatch Cavalry (@OverwatchCaval) November 14, 2022
Hopes Up For Supporters
One of the biggest problems in Overwatch 2, is that support heroes are far too disliked by the majority of players, leading to very long queue times. This is due to the fact that supporters are simply not sufficiently protected in the game. Many people have problems with support heroes not being reliable enough or not being observed and protected by their teammates. In the worst cases, supporters even face toxicity and insults for "not doing enough".

Undoing years worth of therapy by playing a single match of Competitive Overwatch as support

— Isaac (@GalaxyPeaBrain) October 28, 2022
Blizzard is now trying to make the support role more attractive, by releasing Ramattra, a new tank hero that is well-equipped to protect his teammates. Hopefully, the next support hero for the fourth season of Overwatch 2 will be more reliable.
Playing Overwatch 2 is a better vibe with the perfect gaming setup. Click HERE to find everything you need to improve your gaming experience.

This article contains affiliate links which are marked with [shopping symbol]. These links can provide a small commission for us under certain conditions. This never affects the products price for you.