The ping system of Overwatch 2 is an essential tool for communicating with your teammates if you're not in the voice chat. Here is how to mark enemies on the map and use the pinging function properly.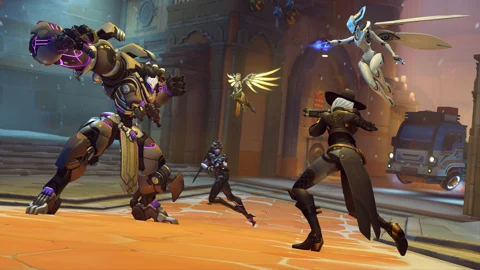 The ping system was added with the launch of Overwatch 2 and is intended to improve general communication and understanding among team members. This can be incredibly helpful if you want to make short calls in hectic situations, which happens quite frequently in Overwatch 2. Anyway... in tactical multiplayer games like these, communication is key! So that's what we're going to cover today. Here is how to use the Overwatch 2 ping system properly.
All Currently Active Twitch Drops In Overwatch 2 – How To Claim Legendary Skins For Free
How To Ping In Overwatch 2
Learning how to ping in Overwatch 2 is a valuable part of mastering the game. If you want to coordinate better within your team and improve on your communication during a match, especially if you're not comfortable with using the team voice chat, you should take a look at this:

Ping Button On PC and Console
Here are all the standard controls on Pinging in Overwatch 2
PC: G-key / middle mouse-button
Controller: Left on D-Pad
By the way, playing Overwatch 2 is a way better vibe with the right equipment! Check out this, and you'll find everything you need for the perfect gaming setup.


By aiming at an enemy, an objective, or just a location and pressing the ping button once, you will send out a ping to your teammates that informs them of this certain location. This can be quite helpful if you want to move your team's attention to a certain target. The ping does not permanently target the enemy, but only shows their last position from the time you sent it.
If you hold down the ping button, a wheel with various commands will open for you to execute. This will give you the ability to make more specific calls during a match. For instance, you can start a countdown for a joint attack on the objective or tell your teammates to retreat.
Overwatch 2: New Control Map Antarctic Peninsula Revealed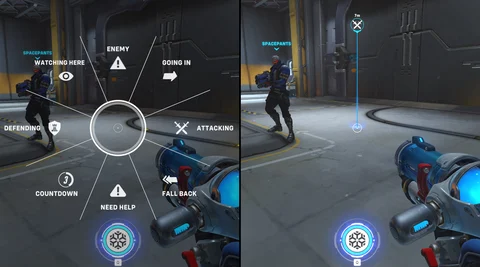 Here are all commands on the ping-wheel:
"Enemy"
"Going in"
"Attacking"
"Fall back"
"Need help"
"Countdown"
"Defending"
"Watching here"
Overwatch 2 New Heroes That Might Come In 2023
When you are just practicing pinging, try to do it at times when you are not likely to be attacked. Being able to ping just before or even during combat is excellent, but if you're not completely familiar with it and need a little longer, it's counterproductive to risk getting killed for it.

This article contains affiliate links which are marked with [shopping symbol]. These links can provide a small commission for us under certain conditions. This never affects the products price for you.