The Overwatch franchise is known for its "interesting" hero releases. Now, the Overwatch 2 executive producer has criticized other developers for releasing overpowered characters.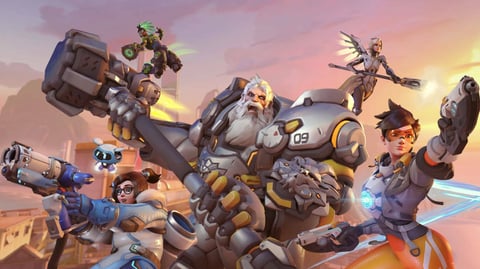 The Overwatch franchise is known fort its innovative hero and character design. There are currently 37 heroes in Overwatch 2, and some of them had "interesting" releases. Now, Overwatch 2's Executive Producer Jared Neuss had some things to say about the release of overpowered heroes, and slams other devs for it.
Overwatch 2 Producer Slams Devs For Releasing OP Heroes
I guess it's fair to say that the hero releases in Overwatch and Overwatch 2 had their up and downs. Some of them were way too strong in the beginning – looking at you Brigitte – and some were maybe too weak, Lifeweaver for example. So it's interesting to hear, that Overwatch 2's Executive Producer Jared Neuss slams the developers of other games for releasing OP heroes.
Neuss talked about this topic live on Twitch with the streamer "Emongg". In this conversation, Neuss criticized the devs of other games for releasing overpowered heroes to drive their community to buy the hero.
I think there is something really gross about games, that put a new hero in the game and he's gonna be super op for three months to really drag people to buy.
Neuss continues with a short explanation about the difference between actions like this and the way Blizzard handles their new heroes.
We don't want to go that route and just release heroes that are overpowered. And I think what you've seen in previous hero releases, we haven't had a great grasp on exactly where like viable and balanced is at launch. And there were some good example and some bad ones, but we learned a lot from Liveweaver . So going forward its realy about trying to identify why we missed the mark on those heroes.
The next Hero for Overwatch 2 is announced for the upcoming Season 6 of the game. So only the future will show, how Blizzard is handling the next Hero release and how the balancing of the character will be.
Neuss is definitely right about the overpowered heroes of other games. And it's ok to slam devs for it, when it's obvious that it's just for the sales of the new character. But that these critics come from an Overwatch producer is kinda interesting. Because it's safe to say that a portion of the Overwatch community would say the same about their game.
This article contains affiliate links which are marked with [shopping symbol]. These links can provide a small commission for us under certain conditions. This never affects the products price for you.