There are some new rumours surroudning the release of Starfield. These point to a release as soon as June. Let's check out everything we know about the Starfield release date.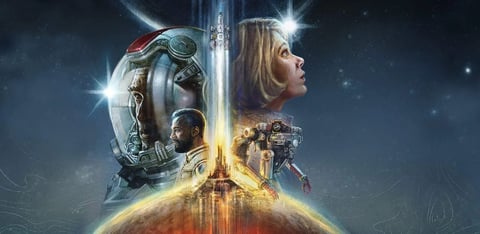 We have been waiting for years for Bethesda to release Starfield, but we've had to stay strong and endure multiple delays. After there have been leaks stating that the game would be pushed back to the second half of 2023, as well as some confusion regarding the platform thanks to Steam, we've now got some new information regarding the release of Starfield.
The official website still has a release date set for the first half of 2023, but a brand-insider apparently knows more.

Sick and tired of waiting? Play some Hogwarts Legacy until Starfield releases!

Starfield Release Rumoured To Be June
Journalist, brand0insider and editor-in-chief of Windows Central, Jez Corden, spoke about a release date for Starfield on his Podcast Xbox Two. He mentioned that the release date could be as s soon as June 2023. This is what he had to say:
A lot of people think that they may tie Starfield's launch date might to International Space Day. I am of the opinion that Starfield is going to drop in in June. I think Starfield is going to drop in June.... the latest information I have suggests June to me.
We aren't sure what information Corden has, but as the editor-in-chief of Windows Central, we do think that he's got some good sources with Microsoft and in turn also Xbox.

Alongside. theclaims made by Corden, we've also got evidence from the GOG Galaxy Launcher where a, now deleted, release date was also seen, and this one was also for June.

Starfield : June 29th 2023? pic.twitter.com/pwjoABBKhE

— Tyler McVicker (@Tyler_McV) February 2, 2023
They had the release set for June 29, 2023. Unfortunately, it was removed shortly after and was probably just a mistake, but with the other information we've got it seems plausible for the game to release then.
We still don't have an official release date, but there are more and more hints that June is the month we should be keeping an eye on. We know there is going to be a Starfield showcase soon, so expect the official release date to be revealed soon.

Are you guys excited for Starfield, or are you too busy playing Hogwarts Legacy right now to focus on any other games?

This article contains affiliate links which are marked with [shopping symbol]. These links can provide a small commission for us under certain conditions. This never affects the products price for you.