Summoners War: Chronicles is having a collaboration with One Punch Man, featuring 8 One Punch Man Elites and 6 events where players can obtain rewards such as Elite summons, special gifts, and Guild Raid Boss rewards.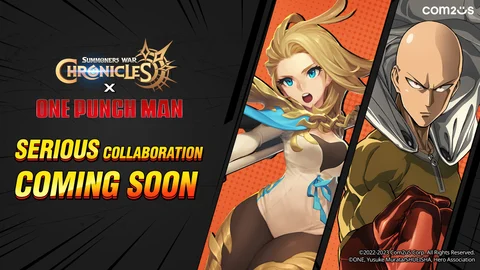 Summoners War: Chronicles has just announced their exciting new collaboration event with the popular anime series, One Punch Man. The event brings an array of new Elite characters from the show to the game, which have been previewed in the latest trailer released by the collab.
In anticipation of the upcoming event, developers have also prepared a Serious Coupon event, which will give players access to more Elite Scrolls required to acquire these exciting new characters.
Fans can mark their calendars as the highly anticipated Summoners War: Chronicles x One Punch Man event is set to begin on April 27. So, prepare yourself for a thrilling adventure in the Summoners War universe with your favorite One Punch Man heroes!
Summoners War Chronicles x One Punch Man | Collaboration Event
Summoners War: Chronicles is starting a collaboration with One Punch Man, which will last from the April 27th update until the May 25th maintenance. During this time, players can expect to encounter eight One Punch Man Elites in the world of Chronicles, including Fire Elites Genos and Atomic Samurai, Water Elites Garou and Silverfang, Wind Elites Terrible Tornado and Hellish Blizzard, Light Elite Mumen Rider, and Dark Elite King.
To celebrate this collaboration, there will be numerous rewards for the community before and during the event. Chronicles is available on the Google Play Store, Apple App Store, and Steam. One Punch Man is an anime series about Saitama, a hero who defeats every enemy with a single punch. In addition, there will be Summoner X One Punch Man collaboration outfits available, including Cleaf X Saitama, Kina X Terrible Tornado, and Orbia X Hellish Blizzard.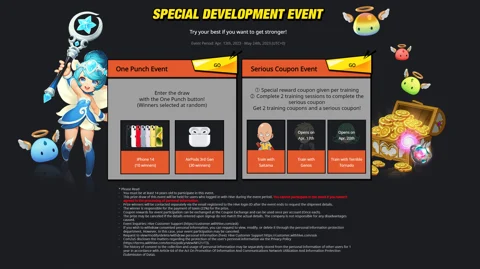 The anime is known for its unique concept, exciting storylines, and serious yet humorous atmosphere. The first season was released in 2015 and drew fans from all over the world, with the second season following in 2019. Com2uS aims to continue the success of Chronicles with this collaboration. Ahead of the collaboration, Com2uS released a teaser image and a clip on the official forum and YouTube channel, featuring Saitama and various One Punch Man characters that will appear in Chronicles.
During the collaboration, special monsters and a variety of unique content will be available in the game for a limited time. The event monsters can only be obtained with the exclusive collaboration scroll. Additionally, two pre-events will take place, where players can visit the official Chronicles website and complete training exercises with One Punch Man characters to win various prizes, including smartphones, headphones, and in-game rewards.
Players can also receive collaboration rewards simply by logging in. Jihoon Han, the head of the Game Business Group, expressed confidence that "the synergy between Chronicles and One Punch Man will be immense."
The One Punch Man Monsters
There are three new monsters that have been introduced. Kimunu is a medium debuff dealer that was nerfed in the past due to its overpowered skills. Abby, a four-star healer monster, can be obtained for free through events. Her first skill applies a takedown and critical reach down, which significantly lowers the attack power of the target monster.
Her second skill provides defense up and recovery that is proportional to the target's max HP. However, she cannot remove harmful effects, and her second skill is the only recovery skill she has. Despite that, she is still useful in PVE as she rewards the attack power and critical late of enemies and gives defense up to allies.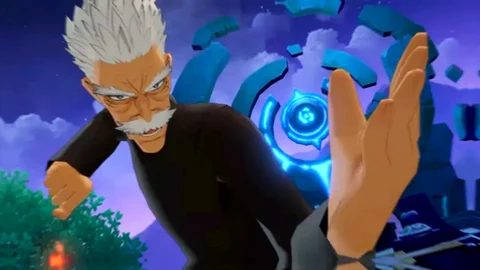 Kim Yanu is the main character of a webtoon and is a medium debuff dealer. His first skill applies takedown and deals damage that penetrates defense, and additional damage to nearby enemies. His second skill attacks enemies within range, removes two beneficial effects, and uses invisibility while dealing additional damage according to the removal of beneficial effects.
His ultimate skill is similar to fire desert queen, which attacks enemies in a wide range and deals additional damage proportional to the number of removed effects, granting itself invincibility. Korean players don't prefer him because he was nerfed after being too strong initially, and the compensation provided to users was not enough.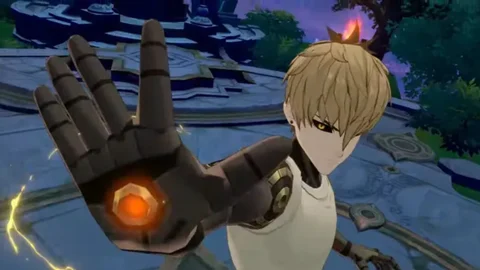 Hanarin is a proportional debuff dealer that performs the best against the fire attribute boss. Her first skill applies block beneficial effect and prospec in a wide area. Her second skill is multi-hit, and for each hit, if the target has block beneficial effect or prospec, she applies defense down, putting on explosive deal through based on harmful effects and defense down at the same time. She has a passive that increases damage dealt to a fire attribute enemy by a certain percentage, making her a perfect fire attribute post-killer.
More Updates
It's been a month since the global release of the game, and the developers have been working hard to understand player trends and behavior on the global server. They've planned some exciting updates for this month that you'll want to know about. The first update is for the Naraka Raid, which has two important strategic points. To prevent Naraka's roar, you'll need monsters that apply increased damage taken or ignore beneficial effects.
During the fight, elementals will appear and try to destroy the seal stones that suppress Naraka's power, so you'll need to protect them. To attack the elementals, they must be charged with a CC effect like provoke.
The next raid update will be the 6-player raid of the Giant Statue, which has particularly high defense. You'll need a team of monsters that can deal continuous damage and keep an eye on the ground to dodge attacks. In the first week of May, the Twisted Swamp raid will be released, where you'll need a summoner to draw attention and a monster that can remove harmful effects at the right time to defeat Kaliya.
The Galagos Ruins will also be released in the first week of May. This is a dungeon that resets every two weeks, and you can enter it with a team of 10 to 30 monsters. The Order of Magic applies certain rules in the ruins, and each season amplifies a specific attribute. You can manually increase the difficulty of the ruins, but be careful not to set it too high. After completing the dungeon, you'll receive a skill card called "Trail of Research," which changes the difficulty level of the dungeon.
As a reward for completing the Galagos Ruins, you can win refinement stones to enhance your equipment's properties. The developers are also planning an update for the Guild Town, which will be released in the third week. Now you can easily communicate with guild members in the Guild Town, and more features will be added as time goes on. Keep an eye out for these exciting updates!
This article contains affiliate links which are marked with [shopping symbol]. These links can provide a small commission for us under certain conditions. This never affects the products price for you.