World of Warcraft has always been the flagship of the MMO scene and always prevailed despite many competitors. But a while ago, Blizzard's success began to crumble and WoW with all that was left of this beautiful game is the shadow of its former self. The latest expansion, however, seems to be a potential savior for the game. Will players give WoW another chance?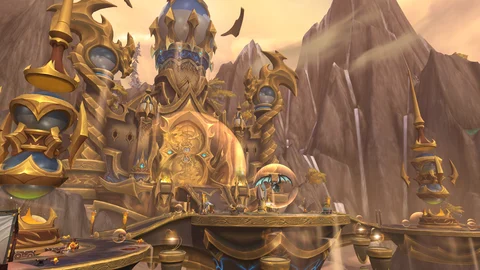 The problems with Shadowlands have left their mark. And the game, which was once so incredibly popular, seems to have its issues to recover from that downfall. The overall opinion about Dragonflight, however, has been quite positive, and many players enjoy their time on the back of their dragons. Despite all this, the high player numbers from years ago still remain absent and streamers are losing more and more viewers. One of them is talking about his POV on the game state right now.
Why is WoW Still Dying?
The burden of Shadowlands is just too heavy to carry for the current World of Warcraft. Many players have given up on the game after the catastrophic launch of patch 9.0. In hopes of improvement and more ambition from Blizzard itself, the community waited almost nine months for the first major patch of the expansion. Unfortunately, it turned out to be even more disappointing than most of us had expected.
"Shadowlands was like THE final nail in the coffin for a lot of people. If WoW survives, 9.1 will go down as the patch that almost killed WoW, and if WoW doesn't survive, 9.1 will go down as the patch that killed WoW." – Taliesin
Streamers in particular have felt this impact, as they have witnessed a significant drop in viewers since Shadowlands. One of them is Taliesin, who is stating his opinion about the game in a video on his second YouTube Channel.
His video on the topic is really informative and bundles many thoughts and issues that the WoW community sees in the game.
Especially in the beginning, he praises WoW for being in one of its best shapes ever at the moment. But explains despite "people are enjoying the game in a way they haven't since Legion […] the game is dead."
Mainly, he feels the results of all that in his own work and in other content creators videos. Viewer numbers on Twitch tend to drop drastically, and WoW videos make significantly fewer clicks than before. Although that is obviously bad for his income, he explains why he prefers the way it is now, over how it was with Shadowlands release. In his opinion, he "would rather [have] a smaller player base and a good game, than a big player base but a bad game."
The Moral Decision
As the video continues, he talks about other reasons for WoW's downfall and that it was very easy for him as well to pay less attention to WoW in recent times.

Even before Shadowlands, Blizzard had already caused major controversy. But as long as the game ran well and Blizzard brought new, regular content, many players could overlook the fact that the company itself struggled.
The lawsuit Activision Blizzard had to face during this time around, concerning sexual abuse in the workplace, has scared off many players. Now not only the company has a bad feel to it, the games did as well around said patch.

Still, Taliesin hasn't quite given up hope and thinks there could be a happy ending for WoW. Dragonflight is a great starting point for this. With regular updates and patches, WoW can become a brilliant game again and hopefully win over the players it lost on the way.
Whatever happens with World of Warcraft in the future is still uncertain. Let us all hope for a positive change in upcoming patches. You will find them here on our website as well!
This article contains affiliate links which are marked with [shopping symbol]. These links can provide a small commission for us under certain conditions. This never affects the products price for you.