Overwatch 2 Battle for Olympus is said to be the worst event that the game ever had. So, how did Blizzard come to think it would be a good idea to make it annual?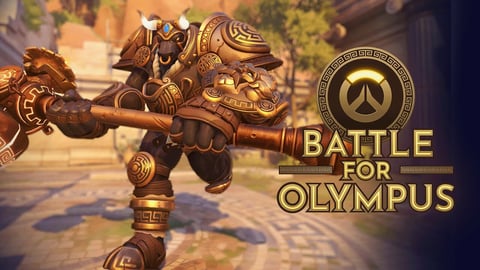 Although the recent new Overwatch 2 event Battle for Olympus was praised to high heaven by the publisher, it does not seem to have impressed the fans. In fact, the opposite has happened. Many Overwatch 2 fans have stated that this event was the worst one Overwatch has ever had.
Pretty heavy words, considering that the idea of the event is actually quite cool. But there are good reasons for the negative reception. However, that didn't stop Blizzard from turning BfO into a permament feature.
Overwatch 2 Patch Notes: New Hero Balance Update Removes Roadhogs One Shot
Overwatch 2 Battle for Olympus: Worst Event Ever
I think every one of us who has played the Battle for Olympus game mode can relate when I'm saying that it was clearly overhyped.
From how Blizzard advertised this event, we were definitely expecting a lot more from it. The "Power of the Greek Gods" was not very spectacular and the game mode felt like a normal Deathmatch game mode, with the same three maps that were constantly repeated.
Overwatch 2 Season 4 Will Change Brigitte's and Ramattra's Ultimate
If you had only played 5 to 10 rounds, it might have even been fun, but the way these challenges were designed, players had to play at least 50+ rounds to get the legendary Mercy skin.
In one challenge, for instance, your task was to achieve a whopping 300 eliminations using one particular hero... 300!
Just imagine the hassle of having to participate in this drag of a game mode and playing the same damn hero over and over again.
People lost interest in the game mode so fast, that only a few days after release, everyone was trying to farm eliminations by teaming up with enemies through the chat. Well, I think that says it all.
the overwatch 2 battle for olympus event is unironically the worst event I've ever played in any game

— Lena (@EntraptaFangirl) January 5, 2023
Overwatch 2 New Heroes That Might Come In 2023
I don't know if it's just one of Blizzard's weird ways of torturing their fans, but after the event finally ended, they gleefully announced that they were going to make it an annual event, so we can now play it every year... yay.
Well, I don't know what to say at this point... Hopefully, they'll make it better next time. I'm just happy that it's over and we can finally enjoy the Lunar New Year event.
Playing Overwatch 2 is just a better vibe with the right gaming setup. Check out these products on Amazon to find everything you need to improve your gaming experience.
This article contains affiliate links which are marked with [shopping symbol]. These links can provide a small commission for us under certain conditions. This never affects the products price for you.