The 2023 LEC Finals location has been revealed and fans can get excited for some insane plays, as well as a great crowd.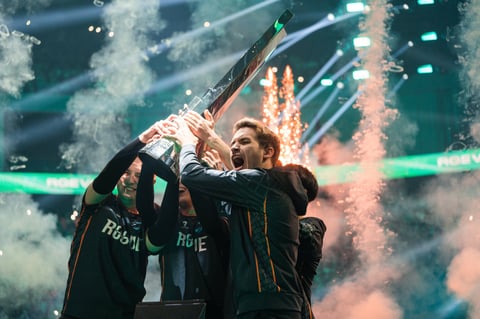 The LEC is back in January! The teams are all mostly set and ready to kick off the season to try and make it to the 2023 Mid-Season Invitational which is rumoured to take place in London, England, as well as earn points to qualify for the biggest esports event in League of Legends, the World Championship.
While there is still a long way to go to reach Worlds, MSI and even the LEC finals, it seems that the location of the final city for the 2023 LEC Playoffs has been confirmed by sources from Brieuc "LEC Wooloo" Seeger.
2023 LEC Finals: Location Revealed
The 2023 LEC Finals will likely be heading to France. According to sources from Seeger, the event will be held in Montpellier, France, which is a southern city in France right on the cost to the Mediterranean Sea. This is the first big LoL esports even in France since the 2019 League of Legends World Championship Finals which took place in Paris.
With the LEC changing their format ahead of the 2023 season to include three instead of two splits. Also, with this new format, we will only have one big LEC final which will take place at the end of Summer. Riot has made some major changes this year with the change from 'Europe' to 'EMEA' for the region.
This is a short rundown of the LEC changes for the 2023 season:
Each Split will start with a single, best-of-one round-robin. The top eight teams will move on to the group stage.
The group stage will have a best-of-three double-elimination format, and the top four teams make it into the playoff stage.
The playoff stage is the last stage of the split and will be played in a best-of-five format.
Pick up the League of Legends Novel Ruination
How this will affect the team going to MSI for the LEC has not been revealed yet. But we are excited for another League of Legends event taking place in France with some of the most insane events having been held there. French fans have also shown how passionate for LoL esports they are, making the LFL one of the most viewed ERL.
It's only a matter of time before KCorp will make it to the LEC as well with some thoughts of expansion also being played around with for future LEC seasons. Until then, we will have to enjoy the LEC events we get in France and Montpellier for an LEC final fits perfectly.
This article contains affiliate links which are marked with [shopping symbol]. These links can provide a small commission for us under certain conditions. This never affects the products price for you.