In League of Legends Patch 13.5 Riot is going to be making some big changes to Yuumi to try and stop her from dominating the pro-meta. Some of the changes will have to be shipped at a later date though, due to some in-game issues.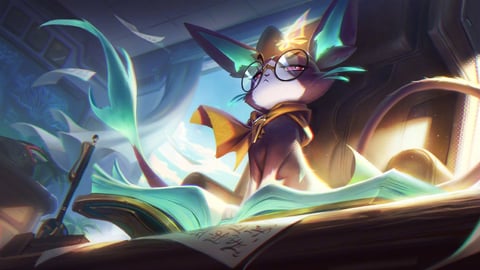 Riot is doing everything in their power to try and keep Yuumi out of the pro-meta and finally fulfill her destiny of becoming a beginner-only champion in League of Legends. In LoL Patch 13.5 some major changes have been planned for the support kitten, but a few of the features will have to wait for another patch it seems.
Riot have revealed on Twitter that a few planned things are going to be pushed back for LoL Patch 13.6.
League of Legends: Yuumi Audio Issues Cause Some SFX To Be Delayed
On Twitter, the official Riot Dev Team account revealed that the SFX of two skins is going to be delayed for one patch. The sound of Yuumi's ultimate on her World Championship EDG skin, as well as her E on Yuubee have been causing issues for the team and playing louder than intended.
Imagine new Yuumi in URF though:
These issues had been noted early on when the Yuumi rework hit the LoL PBE server and the team has been working on a fix, but it seems that it hasn't come in time, which means Riot is going to be pushing back the SFX updates on these two skins for one patch.
We are aware of an audio issue with the SFX for Yuumi's R on her EDG skin and the E on her Yuubee skin causing them to play louder than intended. Temporary SFX will be used for patch 13.5. We're currently working on a fix that will ship with patch 13.6 to restore the intended SFX
This might not seem like a big deal, but the sound effects on these skins for the abilities are so loud that nothing else can be heard while playing. Therefore, Riot will add temporary SFX to the abilities on the skins for LoL Patch 13.5 and work on the issue to have the correct sound effects live in LoL Patch 13.6.
QA engineer, Riot Pehrek, also noted that he got multiple callouts about the issue and explained that they're working on getting the correct SFX to players as soon as possible, but the team wants to avoid players getting unpleasantly loud SFX in the upcoming patch.
With Yuumi's rework just around the corner it's exciting to see how this new version will fare in pro-play. Are we going to be seeing a lot Yuumi at the upcoming Mid-Season Invitational in London?
This article contains affiliate links which are marked with [shopping symbol]. These links can provide a small commission for us under certain conditions. This never affects the products price for you.