The PBE LoL Patch 12.15 is live right now, but the most important question we have is where the Udyr VGU is and why it isn't on the PBE yet?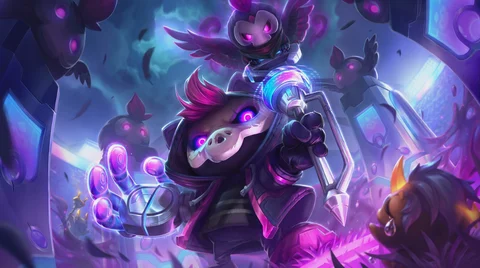 It seems that Riot finally rememebrs that Veigar is a champion in League of Legends. Not only has he just received the first mythic chroma, but now he is also going to be getting a brand-new skin in the upcoming League of Legends Patch 12.15, and you can already test it out on the current PBE server!
But what else is on the PBE right about now other than skins and cosmetics for us players to spend our precious RP on? Well, Riot has been teasing the release of the next big champion update. It isn't Aurelion Sol who is getting his whole kit reworked, but the upcoming Udyr VGU is on everyone's mind all the time, but has it been released onto this PBE cycle?
Visual and Gameplay Updates on PBE 12.15
Unfortunately, we will have to disappoint all of you guys. The Ahri ASU and the Udyr VGU are not currently available on the PBE patch, which means we will have to wait even longer for either of them to release. Not too long ago, we were told by Reav3 on Reddit that the Udyr VGU was close, which had fans excited about the next League of Legends patch.
But, the Udyr mains Subreddit will continue to be empty for now with the lack of Udyr VGU on the PBE server. So, if you thought that Patch 12.15 would be the time to get hyped for Udyr, then you'll be gravely mistaken and will have to wait for Patch 12.16.
Ahri's ASU is also said to come out around the same time as the upcoming top lane champion, so we might have to wait until after the 2022 League of Legends World Championship for this update, but nothing is set into stone just yet. Let's be a bit more patient, eh?
You know what you should do while you wait for the Udyr VGU? Main a new champion in the support position! Here is what you need to know if you want to play some Fiddlesticks support:
Monster Tamer Skins on PBE Patch 12.15
If you are already on PBE and wanting to test out the upcoming Udyr VGU, or lack thereof, then how about trying out the upcoming skins? Enough anime girls, we're here for some adorable and cute skins with the brand-new Monster Tamer skins which were teased back in 2021.
These are the champions getting Monster Tamer Skins in Patch 12.15:
With the multitude of skins we got in the last two patches, it's time we take a breather. Our wallet thanks us, but these skins are pretty adorable and cute. Why does Riot always make the cutest skins for Kog'Maw, though? Please someone explain!