The 2022 League of Legends cinematic release has been revealed. Find out everything you need to know right here.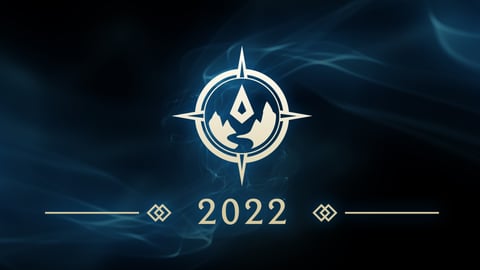 Each year before the ranked season starts, Riot Games releases a trailer with epic music, insane storylines and some of our favorite characters. Of course, 2022 won't be any different.
Last year, we got the epic start of a battle that would shake up Runeterra and change the world as we know it – the Ruination – while in 2020, we visited multiple spots in Runeterra with the 'Warriors' video.
When Will The LoL Cinematic For 2022 Be Released?
The 2022 season 12 cinematic will be released on January 7, 2022. The official Riot Games Twitter page tweeted out an image with the date. If you're in Central Europe, you'll get to watch it at 4 PM, while those on the west coast have to wake up extra early at 7 AM.
This announcement coincides with the estimated launch of ranked season 12 as well, since the first League of Legends patch in 2022 is coming on January 5, 2022. So you'll be able to enjoy a nice video and play some ranked in season 12.
What Can We Expect From The Season 12 Cinematic?
Riot has kept it pretty simple. A mere Tweet of the date and an ominous message "A new journey beckons on January 7th. How will you answer? #TheCall" What call are we answering? Could this be another indication that we will be getting a Void themed event this year? 'The call = the call of Cthulu = Vel'Koz'?

Sorry, I sound like a deranged theory crafter with too much hopium in their blood. We know the first two champions released are from Piltover and Zaun, but the third, a new jungler, should be a Void creature champion.
Once the cinematic is revealed on January 7, 2022, though we will know more. For now, we can just speculate whether the cinematic will be a lore-based video like the Ruination cinematic or whether we just get epic music and battles like the 2019 cinematic Awaken.
Your ranked journey beckons on January 7th at 3pm GMT! Will you answer? #thecall pic.twitter.com/Mevix9Pa2A

— League of Legends // UK, IE & Nordics (@LoLUKN) January 2, 2022
Where To Watch The 2022 Cinematic?
You can watch the 2022 cinematic on the official League of Legends YouTube channel. You just have to go onto the site at the time to enjoy the show and get hyped for League of Legends season 12.
What Else Will Be Revealed?
Last year, the live stream featured multiple Riot personalities who took us through the plan for the 2021 season – and we suspect that 2022 won't be much different. We found out about champion releases, what might happen to skins and of course, what they've got planned on the esports side of things.
So, will Riot be embarking on another huge lore-based event throughout the year? And what will happen with Prestige Skins in 2022? We will have to wait until January 7, 2022, to find out.