When it seems like it can't get any worse – TSM fans know it can! After several sub-par performances in the League of Legends Championship Series, there are a lot of rumors about the storied franchise potentially leaving League of Legends esports behind.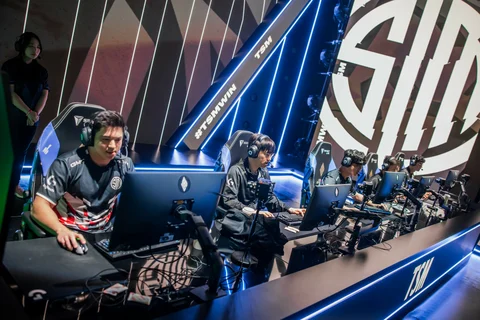 It's fair to say that TSM's glory days are long gone by now and even the most optimistic of fans will find it hard to even find some sort of silver lining. What was once one of the most competitive teams in League of Legends esports, now seems to be dysfunctional and unable to field a roster that is fit to compete for the playoffs.
Even though the team has been disappointing for several different reasons over the last couple of years, no one would've imagined that TSM might actually consider leaving the LCS behind. According to different sources though, that might actually be a potential option. We've summarized everything you need to know about the latest rumors around TSM leaving LoL esports.
TSM's LCS Slot Rumored To Be on Sale
On March 31, 2023, Kevin Hitt of Sports Business Journal broke news about TSM potentially putting various of their esports teams on pause. According to his sources, this might also include the LCS team. Maybe even worse for TSM fans, the franchise isn't looking to pause their LCS efforts, but might look to give up on them completely by selling their spot.
According to Hitt, the underlying cause has to do with TSM's former title sponsor FTX going bankrupt in spectacular fashion. TSM actually sold their naming rights to FTX, closing a massive 10-year, $210 million deal.
You don't have to be a financial expert to understand that suddenly missing out on tens of millions of dollars per year causes a major stir-up.
I don't think we will see TSM in a Worlds 2023 highlight reel, even if they keep their LCS franchise...


TSM Reginald Issuing Statement About Potential LCS Departure
Whether you're a TSM fan or not – news like this always causes discussions online. Shortly after Hitt's article went live, TSM founder and owner Reginald Dinh took to Twitter to issue a statement about the rumors, neither confirming nor denying them:
"TSM is committed to esports. We're planning to enter CS:GO sometime later this year which is a larger investment than all of the games we've left combined. TSM is always evaluating what esports ecosystems are best to invest in and will continue to enter & exit games."
It's not like TSM isn't used to some good ol' online drama, but having to deal with news about them potentially leaving behind what many might consider their core business isn't something they have to do all day.
Reginald himself has been at the center of many scandals and drama, most prominently his dispute with Yiliang "Doublelift" Peng, who accused Reginald of bullying and creating a toxic workplace atmosphere.
Potential Outlooks On TSM's Future in LoL Esports
As you can imagine, stories like these always cause a lot of discussions, assumptions and opinions. Does TSM actually consider leaving LoL esports behind? After all, TSM was founded as a League of Legends teams and has since expanded into and also left many different esports competitions.
Reginald saying that TSM will "continue to enter & exit games" probably doesn't give much reassurance to their fans, so they might be best off preparing for the worst. It's not like TSM fans haven't learned how to suffer throughout the last few years right?
There have been rumors about TSM potentially transferring to a smaller region like the Brazilian CBLOL, or even merging with another esports franchise but as of now we don't want to make any wild assumptions. This story is still developing, and we will keep you guys up to date.

This article contains affiliate links which are marked with [shopping symbol]. These links can provide a small commission for us under certain conditions. This never affects the products price for you.