Frosty Fest is back in Rocket League! This time the developers have come up with something special... a cooperation with none other than the Lofi Girl! Chill challenges, exclusive items and LTMs are – of course – part of Christmas in our favorite socCar game.

Well, not only do Octane, Fennec and other vehicles fly through the arena, time flies just as fast. The new Rocket League season has just started, and now it's already all about the annual Christmas event. Frosty Fest returns and even if you've been naughty this year you'll get some sweet presents.
We'll tell you when the Christmas celebrations start and end in the arena. We also show you the challenges and rewards that Psyonix came up with. By the way, three popular limited-time game modes (LTMs) are also returning to Rocket League. The highlight, however, is definitely the amazing Lofi Girl music. Just vibes.

Frosty Fest 2022 Release Date

For many gamers, Christmas is the best time of the year and obviously Rocket League wants to be a part of it. From December 14 to January 3, 2023, the Frosty Fest will take place with gifts, snow and everything else that goes with the coldest season of the year. Maybe there's even a huge fireworks display on New Year's Eve?

Brrrr It's that time of year. Frosty Fest is arriving on December 14.

Learn More: https://t.co/4oSRgALupN pic.twitter.com/Sj2z3shRSH

— Rocket League (@RocketLeague) December 9, 2022
Psyonix x Lofi-Girl: Chill Beats In Rocket League
Oh yes, baby, who doesn't know the YouTube stream Lofi Hip-Hop Radio? Many of you will certainly have listened to the gentle sounds – the beats just warm you up from the inside! Now the beats are coming to Rocket League in the form of some pretty dope player anthems... you can find them in the Item Shop.
You can either buy the music produced by Kainbeats, Purrple Cat or Xander individually for 300 RL credits each, or just grab the whole bundle for 800 RL credits. If you're a true lofi-enjoyer just like us, you'll obviously go for the complete package.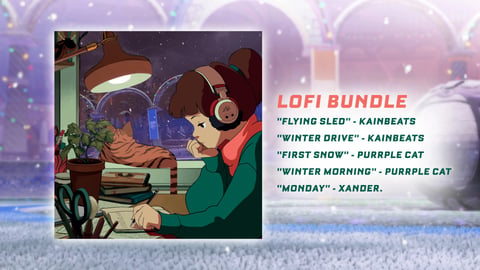 Frosty Fest Challenges & Rewards
What would a new Rocket League event be without a few challenges to unlock exclusive items. This time, you can – obviously – pimp your vehicle with some Christmas-themed gifts, which goes quite well with Season 9's ice theme. Here are all the rewards:

Item Type
Item Name

Lofi Girl Cat
Lofi Girl Cocoa
Igloo

Lofi Girl
Lofi Girl Winter
Additionally, you can earn a total of 5 Golden Gifts throughout the event. These work the same as previous Golden Rewards and can be redeemed in the inventory to unlock even more items.

3 LTMs And A New Arena Style
Just like last year, we're getting a snowy arena variant and some returning LTMs. It seems like there has been a pretty heavy snowstorm in the Throwback Stadium, which is why the arena will have a special white look in the coming weeks. In ranked, casual, or private games, you'll be able to play the following returning LTMs:

Just trust me when I tell you these modes are a heck of a lot of fun. Hopefully the Frosty Fest event in Rocket League can warm up your cold heart a bit. Just don't stress about your rank distribution and enjoy the holiday spirit in the arena. With this in mind: Merry Christmas and a Happy New Year!