The McLaren 765LT has returned to Rocket League and we're absolutely lovin' it! Here's everything you need to know about the bundle and hitbox.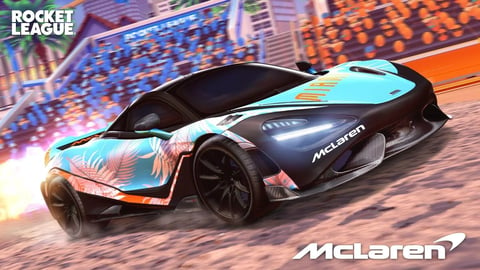 In the official press release for the new McLaren 765LT's entry into Rocket League, Psyonix made the claim that "For McLaren, there is no finish line". Well it seems that, despite Season 3 sucking more than Tomato Soup, there certainly is no finish line for the bore that is the sports-car theme that came along with it. Now, that theme has returned again, bringing something no-one wanted to May 2022. As Psyonix also said:

McLaren is back with the McLaren 765LT Bundle, plus the introduction of a free Miami McLaren Bundle! Created by one of racing's top automakers, McLaren's 765LT supercar is perfect for any fan's Garage. After all, whether you love the Miami nightlife or prefer to kick back and catch a couple of longtails, a McLaren will always get you there in style.
You do have to give it to them that the McLaren is a pretty sleek Battle Car. It looks unbelievably good, to be honest. Especially with the Black Wheels and the Silver Decal that Psyonix have chucked into the bundle for our amusement. We might still be a little salty about Season 3, but to be honest... that was more than a year ago now, so we're certainly not complaining about these beauties.
What is the McLaren 765LT Hitbox?
The McLaren 765LT features a Dominus Hitbox, giving it plenty of maneuverability and making it ideal for last-minute saves. Whilst all vehicles have the same speeds in Rocket League, so that V8 Engine ain't going to be showing off too much, a delicious Dominus Hitbox adds a lot to the McLaren 765LT. As one of the best Hitboxes in Rocket League, the Dominus' thin and squat design makes it supremely useful for goal keeping and reaching the ball as quickly as possible, due to its length.
All this being said, though, let's not dive too deeply into the Dominus Hitbox just yet. If you want more details, check out our in-depth guide to the Dominus and what you can expect from the McLaren 765LT's hitbox...
McLaren 765LT Rocket League Bundle Details
Now, seeing as the McLaren 765LT has a Dominus Hitbox, you're probably curious about what you should expect from the bundle itself. There are two bundles, one being the "Miami McLaren Bundle" and the other the standard McLaren 765LT Bundle. How much does it cost, what's in it, and is the McLaren 765LT worth it? Oh... and when is it available?
What's in the McLaren 765LT Bundle?
Check out the contents of the McLaren 765LT Rocket League Bundle. There are some goodies in here!
| | |
| --- | --- |
| Item Name | Item Type |
| McLaren 765LT | Car Body |
| McLaren 765LT | Engine Audio |
| McLaren 765LT: McLaren 765 [Silver] | Decal |
| McLaren 765LT | Player Banner |
| McLaren 765LT [Black] | Wheels |
| McLaren 765LT | Wheels |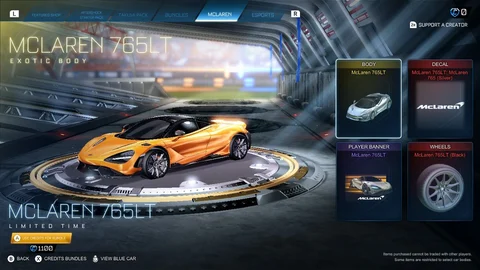 What's in the Miami McLaren Bundle?
The Miami McLaren Bundle is a free bundle, available in the Item Shop, that features four cool items. They are all totally free, and can be equipped to your outrageously expensive McLaren, making it look all the better. The items:
Miami Grand Prix Helmet Topper
Miami Grand Prix Flag Antenna
Miami Grand Prix Player Banner
Miami Grand Prix Decal
How Much Does the McLaren 765LT Bundle Cost?
The McLaren 765LT Bundle Costs 1100 Rocket League Credits, or the equivalent of $10 USD, whilst the Miami McLaren Bundle is free. Seeing as a significant amount of money is often expected for bundles like this (especially licensed bundles), it is actually quite surprising to see the price so low. That being said, though, this is still a virtual car with some virtual skins... for ten bucks. So it really is up to you, and your decision needs to be based on whether this is something you really want!
When is the McLaren 765LT Bundle Available?
The McLaren 765LT will be available in Rocket League from May 4 until May 10, 2022, as will the Miami McLaren Bundle. Featuring the items above, at only 1100 RL Credits, many will consider this bundle an absolute bargain. Whilst we are a bit more dubious, we do admit that this McLaren Bundle does offer some value for money, especially seeing as you can pick up the free Miami add-on for even more customization options.
Vroom..... The McLaren 765LT Bundle is coming back to Rocket League on May 4th alongside a FREE Miami McLaren Bundle.

Learn More: https://t.co/6GtlczSEWB pic.twitter.com/zQckRw2U9e

— Rocket League (@RocketLeague) April 29, 2022
Is the McLaren 765LT Rocket League Bundle Worth It?
So, considering the bundle's relatively low price (at least for these sorts of bundles) and a fantastic decal, we would certainly say that the McLaren 765LT Rocket League Bundle is worth it. I mean, there's a lot of crud out there in the Rocket League Item Shop. Seriously, just so much! So... yes, it's certainly getting that "worth it" stamp of approval from us. You could do much worse... but you could also do much better. It really is up to you. Just use your brain.