After months of disappointing Rocket League Seasons, Rocket League Season 6 is set to take the world by storm with a new "Animated" Theme, a cool-as new Battle Car, and some great new content.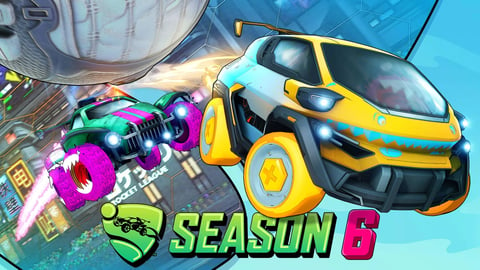 After a few months with Rocket League Season 5, it's surely time for a change of pace. Well, luckily for us, Season 6 is coming around the bend with a rip-roaring new "Animated" theme, and a ton of new content. When is Season 6's release date, though, and what is this exciting new content we just mentioned? You know how Season 3 had that god-awful sports-car theme? Well, Season 6 is featuring a car that's actually looking pretty cool, and this theme? Let's just say that we're feeling pretty darn keen!
So that's why I am here: to tell you everything that you could possibly want to know about Rocket League Season 6! The release date, as well as every piece of announced content has been included in this article, including the brand new Nomad Battle Car, this Season's new Rocket Pass, the new Neo Tokyo (Comic) Variant Arena, and everything else. Oh, we're also going to take a brief look at the game's new ranked rewards and a whole lot more. Are you pumped? We're pumped.
When Is The Rocket League Season 6 Release Date?
Rocket League Season 6 will release on March 9, 2022, at 8AM PST / 4PM UTC. This is certainly not surprising considering that it is exactly when the Season 5 Rocket Pass is due to expire. Keep in mind as well that the Season 5 Rewards will become available from this point onwards as well. The release date we're reporting on here continues a long-lived trend of new Rocket League seasons generally releasing on the same day that the previous Season's Rocket Pass ends.
Coming up next: Season 6! Check out the new Rocket Pass featuring the channel-surfing Nomad Van.

Learn More: https://t.co/TblLGCbZh6 pic.twitter.com/jtbJiYvqLx

— Rocket League (@RocketLeague) March 7, 2022
All Rocket League Season 6 Details
Rocket League Season 6 is not just bringing a brand-new theme, Rocket Pass, and Battle Car to the game, but a fantastic new series of items, an exciting new game mode, and even more. It is honestly one of the best Season Announcements to come since the free-to-play shift, and has us hyped beyond belief. The rest of this article is going to be dedicated to breaking everything down for you.
Keep in mind, though, that with a new Season comes the resetting of Rocket League Ranks. The current rank distribution seen in Rocket League will change dramatically, as will the disparity between players. What we can't expect is many changes to the game's MMR, with a new competitive Season mainly bringing in cosmetic items and changes to the ranked play mode.
New Rocket League Season 6 "Get Animated" Theme
Captioned "We'll be right back after this commercial break", Rocket League Season 6 is taking on a cartoon-theme, and it looks honestly incredible. From the bright colors featured in the game's awesome new animated trailer, to the plethora of new items that are due to be featured in the Rocket Pass and Item Shop, this "Animated" theme is looking to be pretty slick indeed.
Rocket League Season 6's New "Nomad" Battle Car
The "Nomad Van" is Psyonix's brand new Season 6 Battle Car. It looks like it might be the best post-free-to-play Seasonal Battle Car, with its adorable blob-look. We have covered the Nomad's Hitbox in our designated article, which you can check out here. All we will say on that is that it is an unusual, but exciting, choice.
What's Coming To The Season 6 Rocket Pass?
Other than the Nomad Battle Car, this Season's Rocket Pass will include a huge selection of new Wheels, Decals, and a "Nomster" Goal Explosion. Psyonix have expressed that the Season 6 Rocket Pass will be "packed tighter than a clown car", and it certainly seems that way. Here's what Psyonix had to say in their press release:
Be careful while channel surfing—the mysterious Nomster has been spreading rapidly through the game. We're not exactly sure WHAT he is yet, but he's showing up in new Wheels, a Goal Explosion, even a new Antenna that somehow devours the grille of the Nomad! Not cool Nomster, not cool!
New Limited Time Mode in Rocket League Season 6
We can confirm that a brand-new Limited Time Event and Game Mode will launch alongside Rocket League Season 6. This mode has not been announced yet, though, with Psyonix clearly telling us that "Later this season, a new Limited Time Event will debut, releasing an entirely new Mode that's sure to be a smash hit. Details to come, but for now, we'll just say we hope you like bumping!" Could this be Bumper Cars in Rocket League? That would be absolutely incredible! We'll have to wait and see...
What is the New Arena in Rocket League Season 6?
Rocket League Season 6 will feature the brand new "Neo Tokyo (Comic) Variant" Arena, which looks pretty great. Now, we're not entirely sure how this map will compare to the standard Neo Tokyo Arena, and it reminds us a bit of when Season 3 disappointed us with its DFH Stadium variant that simply put a racetrack around the edge. The difference, though, is that this one seems to be pretty different that its standard variation and... well... looks bloody awesome!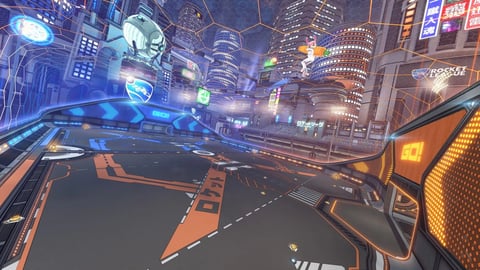 What else is coming in Rocket League Season 6?
Rocket League Season 6 is honestly going to blow our socks off. The list is ridiculously extensive, with not only the content outlined above, but a vast selection of other items and features. Here's a nice little summary:
Psyonix's Rocket League Season 6 Looks Great
For the first time in a long time, I am actually excited for Rocket League Season 6. From the opening paragraph of Psyonix's press release, and the trailer, it became clear that with a combination of this brand new Rocket Pass, a new game mode, the adorable new vehicle, and this "Animated" theme, there are some great months ahead. Here's how Psyonix sold Season 6 to me:
From the studio that brought you Rocket League, Psyonix proudly presents Season 6, an all-new adventure featuring our beloved cast of cars. This season introduces an animation-themed Rocket Pass featuring the new Nomad van, along with a never-before-seen Neo Tokyo (Comic) Variant Arena. As the season continues, we'll release items from the Fornax Series, uncage the legendary Black Fennec, and introduce a smashing Mid-Season Event that showcases a New Game Mode.
So there you have it! Everything that you could possibly want to know about Rocket League Season 6, including what we know about the upcoming Rocket Pass, the "Animated" theme and Season 6's release date. There's a lot to unpack here, and we will, of course, update this article with everything that we know as we learn more and more and more.