Most notably ranked games in Rocket League have been bugged by a huge issue in recent weeks: Bots. What's worse is that Psyonix hadn't released a statement which only made the community even more concerned. Finally, the developers gave us an update – here's how RL-bots will be handled in the future!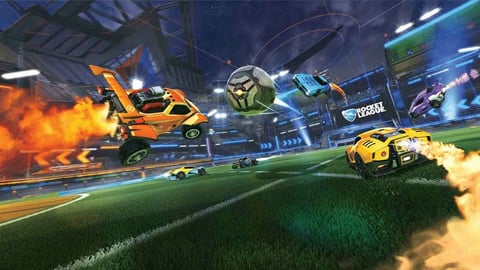 Rocket League is an amazing game which features some of the best cars in the world, IF you're playing against SIMILAR-SKILLED and most importantly "REAL-LIFE" opponents. The game's balance is secured by RL's internal Matchmaking Rank (check out our ultimate MMR guide!). This system can obviously not guarantee the "realness" of players, though.
In recent weeks, a wave of frustration steamrolled through the Rocket League community. It seemed like most of the players didn't fancy playing some competitive ranked matches. Why? Way too many bots. Psyonix' answer? Silence. Until now...

Psyonix Bans Bot-Accounts In Rocket League
To address the bot issue in Rocket League, Psyonix recently banned a non-negligible number of accounts running bots. According to the developers, this ban wave should be able to "cover the cast majority of bots since they first appeared in online matches towards the end of 2022".
However, that's just the first part of the update that Devin Connors – Rocket League's Senior Content Manager – shared on Reddit and Twitter. You can check out the complete announcement below... fortunately, additional anti-cheat measures are also in the works.

Update on Bots in Online Matches from RocketLeague
Rocket League About To Get More Anti-Cheat Features
In order to get the bot problem under control (long term), Psyonix is ​​currently working on solutions behind the scenes. First and foremost, they have already re-added a "Cheating" report reason into the game – this option wasn't available for a while, but is now back in Rocket League.

In addition, even more anti-cheat measures are being worked on. Sadly, the update didn't provide any detailed information about what this system could look like in the future. We'll keep you posted as soon as Psyonix releases another update.
It's awesome, though, that we (the community) have this level of transparency and communication in Rocket League.

Is BakkesMod Still Going To Work?
In addition to the overwhelming joy of the Rocket League community, some users also have concerns that other tools such as the popular BakkesMod could no longer work due to the new anti-cheat features. In case you don't know what BakkesMod is:

BakkesMod is a mod for the popular socCar game Rocket League. The mod is intended to help players with training. For this purpose, the software provides its own plug-in interface, which can be used to add additional functions and features to Rocket League.
Well... we can't share neither good news nor bad news right now. Devin Connors provided some additional info in the comments and stated that they are in early stages with anti cheat currently. Nobody can predict the impact this new system will have on Rocket League once it gets released.

This article contains affiliate links which are marked with [shopping symbol]. These links can provide a small commission for us under certain conditions. This never affects the products price for you.