Almost as soon as fans began playing around with Fortnite Creative 2.0, they began making Call of Duty maps. But the design of those maps is owned by Activision. So, somewhat predictably, the legal team has been assembled, and CoD maps are being rapidly deleted from Fortnite.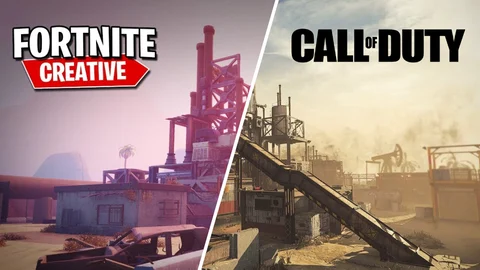 Call of Duty is in one of the worst states it's ever been in. And with competitors bringing out amazing new gameplay mechanics, incredibly detailed map editors, and swimsuit skins, the CoD community are forced to reflect even more sharply on the sorry state of this once-great franchise.
So what can Activision do to resuscitate CoD? MW2 and Warzone 2's third season is just around the corner, but even the long-awaited Ranked mode probably isn't enough. No, what Activision clearly need to do is aggressively shut-down fan-made projects that pay homage to the history of Call of Duty.
Activision DMCA'ing Fortnite Creators Who Remake CoD Maps
Activision has taken strict action against all the fan-made remakes of Call of Duty maps in Fortnite Creative 2.0 by sending out DMCA requests to the creators. The creators have, by and large, chosen to comply with these requests. As creator Mist Jawa said on Twitter:
I will no longer be recreating any copyright maps

Modern Fortfare along with some zombie maps
have been deleted and can no longer be played
I still plan on creating unique experainces for shooter
& Zombie fans

I have also removed all tweets and YT Videos related to the topic.
Obviously we were going to have a go at Activision in the intro (we're very bitter about Warzone 2 right now), but for the sake of fairness, they're not doing anything unusual here. They do own the design of those maps, they did pay for their original creation, and almost any large company would act to protect their own property, intellectual or otherwise.
Still, Activision sucks.
Are you going to try and use Fortnite Creative 2.0? Or will you just wait for the $80 map pack to play old CoD maps?
We will probably get the OG Rust in CoD 2023 anyway:
This article contains affiliate links which are marked with [shopping symbol]. These links can provide a small commission for us under certain conditions. This never affects the products price for you.