What is the best shotgun in Warzone 2? We've ranked them all below. But be warned, shotguns are certainly not as viable as they were in Warzone 1.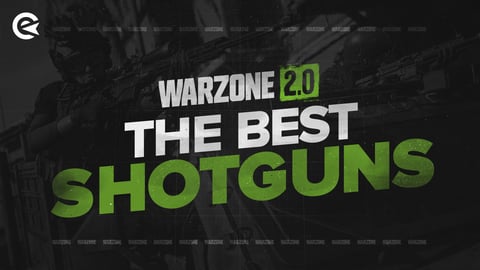 As usual in Warzone 2.0, assault rifles and SMGs are the best weapons in the game, but we also have some decent Battle Rifles, which are a completely new weapon category, and this time around the LMGs are really strong. But no matter which primary weapon you choose, you always need a reliable secondary. If you're looking for something with a lot of power in close combat, shotguns might be the right choice.

Shotguns were kind of trash in Warzone 1 (except for that one time when they were completely broken thanks to a glitch). Unfortunately, shotguns aren't that great in Warzone 2 either, because most battles are fought over longer distances. And in close combat, some of the SMGs are just too strong for the shotguns to compete. But if you still want to try the shotguns in Warzone 2.0, you will find a complete ranking of all shotguns below.

Note: This is a ranking of all shotguns for Warzone 2.0. If you want to know how the guns work in multiplayer, here are the best shotguns in MW2.
The Best Shotguns In Warzone 2.0
4. Bryson 800
Not complete rubbish – pretty much any shotgun will do in close quarters – but the Bryson 800 is just an inferior version of the Bryson 890. It takes a long time to reload and the rate of fire is also terrible. If a shotgun can't really perform in multiplayer, don't even bother with it in Warzone.


3. Lockwood 300
Yes, the good old 725 from MW2019 is back, and it's at least as annoying in multiplayer. In Warzone, however, it's whack. The 725 is a semi-automatic shotgun with only two rounds. In multiplayer, this corresponds to two kills, even at greater distances, but in Warzone 2.0 one shot is far from enough for a kill. In other words, you need both shots for an opponent even in absolute close combat, and then you stand there and have to reload (painfully slowly).

It might be fine for soloing, but once you're dealing with more than one opponent, the Lockwood 300 is useless.


2. Bryson 890
The Bryson 890 is the slightly better version of the Bryson 800. It has a magazine and therefore no longer has to be reloaded individually, cartridge by cartridge. Still, the rate of fire isn't as high as we'd like, so unfortunately even at close range, we're often at a disadvantage against SMGs.


1. Expedite 12
The Expedite 12 is a pretty solid shotgun. Of course, it only works at extremely short ranges, but at least it does a good deal of damage and, above all, has an okay rate of fire. The Expedite is, in our opinion, very well-balanced and just as powerful as we'd expect from a shotgun – not totally OP, but not useless either. Nevertheless, shotguns are still not a good choice in Warzone 2.0...

Are Shotguns Worth Using In Warzone 2?
If you ask us, no. Shotguns are very situational in Warzone 2.0. There are just so few scenarios where you want one. While shotguns in multiplayer can at least almost always one-shot opponents at short distances, this is no longer possible in Warzone with armor plates. The situations in which you will encounter your opponents within shotgun range are very rare anyway, and even then the shotguns often lose out against fast SMGs like the Fennec or Vaznev.
So our advice is to really only use shotguns in Warzone 2 if you have no other choice (and you almost always have).



That's it for the best shotguns in Warzone 2.0. If new weapons come into play or the balance changes fundamentally, we will update our article accordingly. If you still want to know what the hottest weapons are at the moment, you should take a look at this ranking:
You can level these puppies up in DMZ pretty easily:
This article contains affiliate links which are marked with [shopping symbol]. These links can provide a small commission for us under certain conditions. This never affects the products price for you.