In Season 2, Warzone players are basically getting what they've been asking for. But DMZ players? They're getting royally f*cked. Faction Mission progress will be reset, while all keys and contraband items will be destroyed.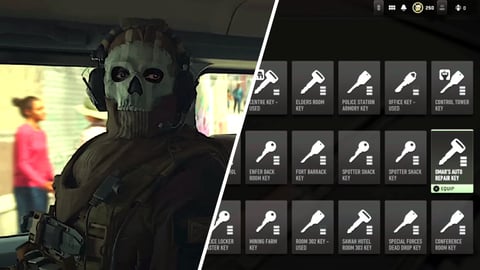 Warzone 2 and Modern Warfare 2 are about to receive the Season 2 update. Now, Modern Warfare 2 players aren't getting much besides the return of CoD: WaW's "Castle" map and Ranked Play. But, Warzone players are being truly spoiled: a new Resurgence map is coming, perk packages are going to be fully-customizable, and they're even giving us back the classic 1v1 gulag.
So, what about DMZ players? Should they be looking forward to Season 2? F*ck no. Mission progress is getting reset and both keys and contraband items are going to be destroyed. This way we can do the same missions all over again, but without all the weapons we've been collecting!
If you were only playing DMZ to level weapons, you should consider multiplayer instead. Here's a link to buy MW2.
MW2 & Warzone 2: Season 2 Update Will Reset Player Progress In DMZ: Missions, Keys & Contraband
In Season 2 your DMZ cache will be destroyed, which includes all of your keys and contraband collected during Season 1, and your mission progress will be reset. None of the DMZ community expected to have their inventory "refreshed" with the new season, and frankly, it feels like a slap in the face given how difficult finding valuable keys can be.
Per the recent blog post about Season 2:
All-new missions are coming to Season 02 including a refresh of your current Faction mission progress and an inventory (Contraband and Keys) reset.
But there is one silver-lining. Once they reset all the missions they are going to add in some easier ones, so that more players are able to unlock the second insured-weapon slot:
Data and feedback reinforced that the Faction Mission difficulty ramp was too aggressive for many Players, and that the demanding scale ultimately made it very challenging to unlock the second Insured Weapon Slot (completing all Tier 3 Missions) in Season 01. We have adjusted the overall scaling of difficulty in Missions as the Tiers progress.
So, even if you will need to start doing missions all over again, they should be easier to complete. Is that a win? Not really, but it definitely softens the blow.
Are you going to be jumping back into the DMZ after all these changes are made? Or are you going to start grinding out Ranked Play when it's released in Season 2 instead?
Don't be put off by this news if you haven't tried the DMZ yet, there's a lot of fun to be had, although you might as well wait until Season 2 to start playing:


This article contains affiliate links which are marked with [shopping symbol]. These links can provide a small commission for us under certain conditions. This never affects the products price for you.