The Warzone and Vanguard Season 3 Reloaded update brought a new SMG into the game called the H4 Blixen. It has superb damage for an SMG and could therefore become meta. Here's the best attachment setup for the H4 Blixen.

Warzone Season 3 Reloaded was released on May 25, and as per usual with midseason content, we got a new gun. This one is called the H4 Blixen, the challenge is quite annoying, but it's looking like it could have meta potential. This is a do it all SMG, and it has a good damage profile. Here's the best attachment setup for the H4 Blixen, and a full loadout to use it with.

How To Unlock The H4 Blixen
To unlock the H4 Blixen you need to either buy a blueprint for it in the store, or complete a challenge. The current blueprint for the weapon costs 1200 CP (approx $10), and it has good attachments, but remember that when you buy a weapon blueprint you can't customize the attachments unless you unlock the weapon via the challenge too. So either way, you probably want to get the challenge done.
What is the challenge? You need to get 3 kills while sliding in 15 different matches in Warzone or Vanguard's multiplayer. You can do this in Warzone and quit out of games once you have the 3 sliding kills, but in Vanguard multiplayer you need to complete games for the sliding kills to be counted. It takes about 2.5 hours in Vanguard multiplayer when playing Ship Haus.
The Best H4 Blixen Attachment Setup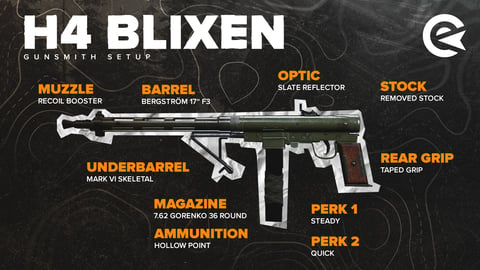 | | |
| --- | --- |
| Component | Attachment |
| Muzzle | Recoil Booster |
| Barrel | Bergström 17" F3 |
| Optic | Slate Reflector |
| Stock | Removed Stock |
| Underbarrel | Mark VI Skeletal |
| Magazine | 7.62 Gorenko 36 Rounds Mags |
| Ammunition | Hollow Point |
| Rear Grip | Taped Grip |
| Perk | Steady |
| Perk 2 | Quick |
This loadout just offers everything we would expect from a top tier SMG. Great handling, mobility, mag size, TTK and low recoil. What more could you possibly want? If you're playing Trios or Quads, then swap out the 36 round mag for the 54 one. Other than that, you could always run Fleet for more move speed instead of steady, but being able to strafe around in gunfights is super important, so give it a try.

Equipment & Perks For A H4 Blixen Loadout
The Best Secondary Weapon For The H4 Blixen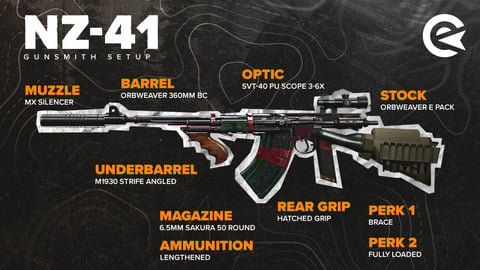 Since the H4 Blixen is especially strong at close range gunfights, we wanted to pair it with a long range AR, and the obvious choice was the NZ-41. By far the best AR at the moment. It just has an insane TTK and absolutely no recoil whatsoever. This should be your default AR at the moment, and until it's nerfed, nothing really competes. Not much else needs to be said.
The Best Equipment For The H4 Blixen
| | |
| --- | --- |
| Lethal | Throwing Knife |
| Tactical | Stim Shot |
Is this a surprise any more? The throwing knife is just super versatile. Helps you down enemies super quickly and efficiently, without having to waste ammo and if you're in a pinch just toss it at an enemy and you basically one shot them with it. Even after the nerfs, I just feel like the Stim Shot is the most useful tactical. Being able to heal and outmaneuver your opponent is just super clutch.
The Best Perks For The H4 Blixen
| | |
| --- | --- |
| Perk 1 | Serpentine |
| Perk 2 | Overkill |
| Perk 3 | Battle Hardend |
Oh look, a different perk set up. Overkill is pretty self-explanatory, we want 2 primary guns. And yes, Serpentine. Everyone thought this was going to be a rubbish perk, until lootable perks became a thing, and you started seeing this perk pop up everywhere and that is when you realized just how annoying this perk can be. Lastly, Battle Hardend: 4 words: Restock Snap Shot Grenades. We've all run into a team of 4 spamming these, and god is it annoying. So to counter them, we use Battle Hardend.
And that's all for today. If the H4 Blixen isn't working out for you, why not check out our loadout guides for its rivals, the Owen Gun and the Volk.