Modern Warfare 2: Season 1 Reloaded introduces the first raid called "Atomgrad". We explain how the Call of Duty raids works.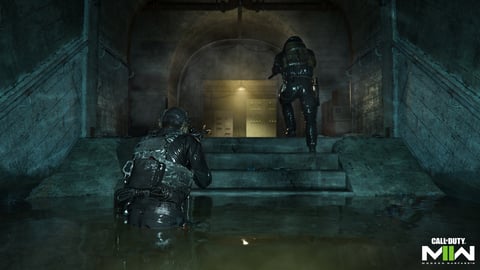 Modern Warfare 2: Season 1 Reloaded is the first major content update after launch and brings not only new operators and a new weapon, but also a brand new game mode: Raids. Most of you have probably heard of Raids, be it in World of Warcraft or Destiny. In Call of Duty, however, there have been no raids yet, and Activision seems to be trying something new here.

So what are the new raids in Modern Warfare 2, and how does the new mode work? We explain the new raid Atomgrad to you.
MW2 Raid: Atomgrad
With the launch of Season 1 Reloaded, the first raid called "Atomgrad" is introduced and available in a new Special Ops playlist. Raids in Modern Warfare 2 are a new cooperative game mode designed to put your skills to the test. All raids are played in teams of three, and in Atomgrad you take on the roles of Cpt. Price, Farah and Gaz. Basically, you can think of Raids as a much more extensive version of the normal Spec Ops missions.
According to the developers, the raids will continue the story of the campaign. This is how the Atomgrad Raid is described in a blog entry:
Continuing from the events of the Modern Warfare II Campaign, the first Special Ops Raid is something that will take, in the words of the captain himself, "violence and timing."
But beware, you can't start a raid from the main menu just like that, in order to play a raid you must first earn a "Raid Assignment". To unlock this "Raid Assignment" you have to complete one of the following challenges:
Complete a specific Daily Challenge either in Multiplayer or Special Ops.
Place within the top 20 in any Warzone 2.0 Battle Royale Playlist.
In DMZ, use the final extract helicopter with at least $30,000 in Cash.
After you receive a "Raid Assignment", you will have access to the raid for one week. Only the player who starts the raid must have the assignment, the other two players can just be invited to the lobby.
Atomgrad Raid: Rewards
Those who successfully complete the Atomgrad Raid will be rewarded with an Operator Skin and unlock a higher difficulty level. The unlockable Operator Skin is the "Convoy" skin for the new Season 1 Reloaded Operator Kyle "Gaz" Garrick.

Besides the skin, you can also find plenty of intel that unlocks other cosmetic items. These will probably be stickers, emblems, calling cards and the like. So it should definitely be worth playing raids several times if you really want to unlock everything.
Modern Warfare 2 Raid Tips
Since the raids are part of Spec Ops, the Kits play an important role here as well. In Spec Ops mode, players can choose from three different Kits, each of which supports different play styles:
Assault: This kit focuses on increased armor with the Armor Box field upgrade. Later tiers include the Assault Suit (sort of like a mini-Juggernaut), increased armor capacity and free Stims.
Medic: This kit focuses on faster revives with a Revive pistol for instant long-range revives. Later tiers include the Bomb Drone, free claymores and free anti-tank mines.
Recon: This kit focuses on intel with a snapshot pulse field to see nearby enemies. Later tiers include the ability to auto-replenish primary and tactical gear over time, the ability to carry additional gear, and a free heartbeat sensor and spotter scope.
All three kits can be leveled up to level 5 with stars that can be earned by completing Spec Ops missions. So if you want to be well-equipped for the raids, you should grind a bit of Spec Ops beforehand and upgrade your favorite Kit as much as possible.
That's all we know about the raids in Modern Warfare 2 so far. We will definitely shoot our way through the new mode and keep you up to date. If you are still looking for a good weapon to use in the raid, take a look here:
What makes Warzone 2 different?