Amouranth caught an UberEats driver red-handed after stealing her food, proving that even delivery drivers can't resist a good meal!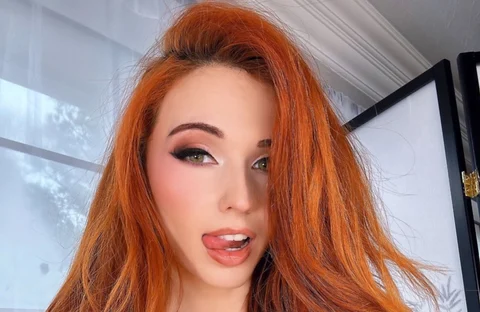 Delivery apps like UberEats and DoorDaash can be a gamble when it comes to who handles your food. While some drivers go above and beyond to help customers, others may leave a bad taste in your mouth. Twitch star Amouranth recently had a run-in with a driver who stole her food after confirming delivery in the app, despite security cameras on her property.
In a Twitter post on April 12, 2023, Amouranth shared a video of the driver running off with her food after taking a picture of it at her door. The video captures a heated exchange between the driver and someone in the car before he takes off with the food. Amouranth's sign warning of the security cameras did not deter the driver from stealing her meal.
Amouranth Caught UberEats Driver Stealing Her Food In The Stupidest Way
Amouranth is having some trouble with UberEats. Apparently, the driver who delivered her food decided it looked tasty and helped himself to a little snack before actually delivering it. Can you believe it? And get this, Amouranth even has security cameras on her property, so the driver knew he was being watched. Talk about a bold move!
She took to Twitter to call out UberEats for this driver's brazen theft. The video she shared shows the driver running back to his car with her food after pretending to deliver it. UberEats was quick to respond, apologizing for the incident and asking her to DM them her account info. It's unclear what will happen next, but we can only hope that justice will be served.
Yo @UberEats why are your delivery drivers stealing my order after taking the picture?

There's a sign in my door that informs people they are on camera and they verbally annotated their actions... pic.twitter.com/uYdJYpQBKU

— Amouranth (@Amouranth) April 12, 2023
After the video went viral, UberEats support responded to Amouranth's tweet, asking her to DM them her account info. They apologized and offered to make things right. While Amouranth has not publicly replied to their tweet, it's likely that the issue is being handled in direct messages.
Unfortunately, Amouranth is not the only one to have a negative experience with UberEats. Another woman recently took to TikTok to blast the app for refusing to refund her after her food was delivered to the wrong address. These incidents highlight the importance of being cautious when using delivery apps and ensuring that any issues are reported and addressed promptly.
This article contains affiliate links which are marked with [shopping symbol]. These links can provide a small commission for us under certain conditions. This never affects the products price for you.