A recent TikTok from supposed victim Caroline Elise has gone viral. In the video, she accuses Andrew Callaghan of sexual assault. More women have come forward, and Callaghan has already released an apology.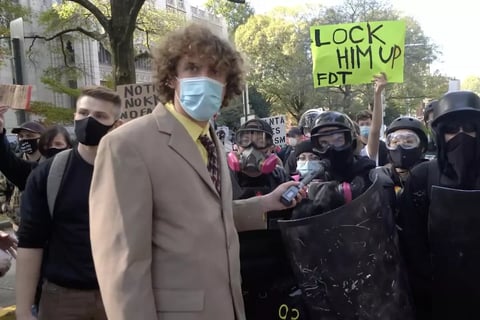 Stories like this have become worryingly frequent in recent months. At least with traditional celebrities, which now seem like a thing of the past, we could rest assured that the stars were properly vetted. Instead, we have figures like Andrew Tate exploding on social media (despite accusations of sex trafficking) and streaming sensations like Mizkif reportedly covering up investigations into abuse.
The latest internet personality to be accused of misconduct is Andrew Callaghan. If you don't recognize Callaghan from the image above, he has become famous for doing absurd man-on-the-street interviews at major political events.

Andrew Callaghan Accused Of Sexual Assault
On January 8, 2023, TikTok star Caroline Elise released a video in which she accused Andrew Callaghan of pressuring her into sex. Apparently, he told her that he had a falling out with his camera crew and needed a place to sleep. She invited him to her apartment, but said she didn't want to have sex. However, much later on in the evening, she claims that he went into her bedroom, and according to Elise, "wore me down". Then the two had sex. What made it even more infuriating for Elise was that she had to watch Callaghan pretending to be a social justice warrior to the public.
Another TikToker called Dana released a video in response, saying that she had experienced something similar with Callaghan after going for dinner with the star:
After we got to my car, he started advancing toward me, touching my inner thigh and pulled me forward and started kissing my neck, so I really couldn't move out of the position. He was holding me tightly. He proceeded to put his hand down my pants. I told him to stop. I told him to get off of me multiple times. He tried to put my hand down his pants. I was fighting against him during this, telling him to please stop. He said, "you could at least suck my dick."
At the time of writing (January 16, 2023) this is all just internet hearsay; Andrew Callaghan has not been arrested for any crime. The TikTok videos have not been corroborated, and the only official response we've had from Callaghan is the following apology video:
If you don't want to watch the entire apology video, Callaghan apologizes to the victims and says that he's going to join Alcoholics Anonymous and promises to work on himself.
We'll keep you updated as this story develops.