Asmongold just got played. He tuned in to a Genshin stream, hoping to enjoy a "VTuber anime waifu", only to discover it was just a dude who used a female avatar to get more viewers. Apparently it ruined his day.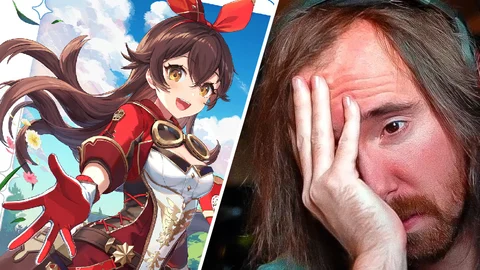 Asmongold is a very popular streamer, who spends most of his time playing WoW, chatting to stream, and turning down Adin Ross' offers to go to Kick. He's not the kind of content creator that does things to start drama (and unlike Kai Cenat he's very rarely surrounded by guests, who may or may not be giving out handjobs).
Nope, Asmongold isn't that kind of streamer. He's just a chill guy and an old-school nerd. But when he went looking for Waifus recently, he was outraged to discover that not all waifus are truly who they claim to be...
This Ain't A Waifu - It's A Dude! Asmongold Furious At VTuber
Asmongold was watching some Genshin Impact recently, but just as he opened up the stream of "VTuber anime waifu" OkCode, the VTuber revealed herself to actually be a dude. OkCode explained that it simply makes sense from a business perspective; if he uses a cute female avatar people click. But Asmongold wasn't buying it, he was pissed.
In the clip you can see Asmongold in complete shock:
"Wait, that's a guy!?" this just ruined my fucking day!
Poor old Asmongold. But, we have to admit, fair play to OkCode. If it works for him, and if the viewers donating can let themselves believe it's a real waifu, is there really any harm in it? Perhaps it's concerning for the future, but we're more worried about deepfakes than VTubers.
Speaking of, a streamer was recently caught paying for deepfakes of his friends.
If you want to make sure a waifu is who they claim to be, avoid VTubers altogether, and stick with the OGs:
This article contains affiliate links which are marked with [shopping symbol]. These links can provide a small commission for us under certain conditions. This never affects the products price for you.