During his subathon, popular Twitch streamer Kai Cenat was doing a lot of crazy stuff. The wildest thing, though, was probably getting a handjob live on stream!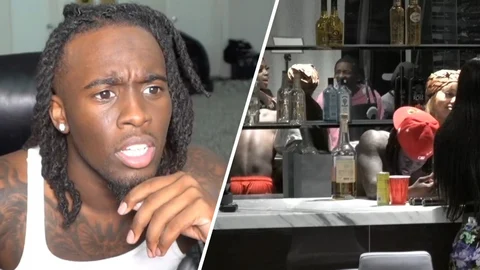 During a recent broadcast, popular Twitch streamer Kai Cenat was having some friends over during his subathon. While they were having a friendly chat, one of the girls was apparently having her hands down his pants, giving the streamer what looks to be a handjob live on stream, in front of more than 70,000 people.
Mirror Gives Away Kai Cenat Getting A Handjob Live On Stream
Kai Cenat has been the rising star on Twitch, averaging 70K viewers during his streams and boasting more than 4.5 million followers. The 21-year-old is an entertainer to the core and on January 31, he announced his subathon, following a ban for passing out after eating too many edibles on stream. His streams are wild!
During the subathon he hung out with banned streamers (kinda risky on Twitch), went to Universal Studios (and was streamsniped by the stage crasher from the Game Awards), eat wedgie Tacos, and much, much more. As I said, his streams are wild!
But the subathon really went to the next level when he was caught getting a handjob from one of his female visitors.
This happened when he and a couple of friends were just chilling at the bar area of his house.
While he and the girl in question were kind of hidden behind the counter, you can clearly see her hand in his pants thanks to the mirror behind them.
Kai is not the first popular streamer to slip up during one of his broadcasts:
I'm not gonna post the clip here, but you naughty readers will probably still be able to find it if you try hard enough.
Whether Twitch will ban him is still up for debate, as they might not want to drop their biggest cash cow at the moment.
Quickly after the clip popped up on the LivestreamgFail subreddit, Kai responded, saying that the girl was in fact just scratching his upper thigh (very close to his wiener).
Hard to say whether this is true (I mean, we only saw the reflection in the mirror), but it might just be enough for him to avoid the ban-hammer, as his subathon is still going for another week.
We're gonna have to wait and see how Twitch is going to react, but they didn't ban him for featuring banned streamers, so he might be good.

This article contains affiliate links which are marked with [shopping symbol]. These links can provide a small commission for us under certain conditions. This never affects the products price for you.