While doing an IRL stream with xQc, Kai Cenat got repeatedly streamsniped by the Kid that crashed the Game Awards.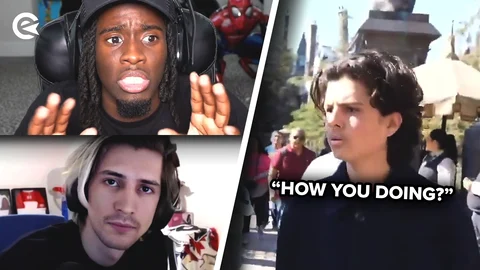 On February 20, Kai Cenat was doing an IRL stream, with fellow Twitch star xQc just roaming the Universal Studios, when they got streamsniped by a kid. And that kid turned out to be the infamous Game Awards stage-crasher.
Game Awards Kid Stalks Kai Cenat And xQc On Their Universal Studios Tour
During the 2022 Game Awards, a kid went viral for crashing the stage after Elden Ring was announced the Game of the Year.
The young kid interrupted the acceptance speeches, dedicating the Award to former President Bill Clinton, saying "I would like to dedicate this award to my reformed Orthodox Rabbi, Bill Clinton, thank you, everybody", before being escorted off-stage.
While most of you probably forgot about this kid by now, he recently made a reappearance, this time not crashing an award show, but instead annoying the ever living sh*t out of Kai Cenat.
In the clip, you can see Kai looking around pointing at a person off-camera, shouting "Yo, I seen him before".
The camera then turns, to capture the Game Awards Kid (wearing the same outfit) trying to mix in with Kai's squad, asking "dude, what's going on?".
Kai doesn't seem too happy about the streamsniper, though asking him to leave, saying, "What the hell. You're the most random person. You're not with us, you're not with us, but I've definitely seen you before. Nah, nah, nah, you're not with us. Yeah, he's recording, you're recording you're not with us. Don't let him follow us".
xQc was not really saying an awful lot during their encounter, but it looked like he wasn't the main target of the streamsniper this time, as this wasn't the last time they encountered the kid.
The infamous stage crasher made his reappearance roughly an hour later, asking Kai for a picture while wearing a disguise.
Mask on and wearing a different outfit, Kai didn't recognize him, when he asked him for a picture.
When he leaned in for the photo, the stage crasher removed the mask and Kai immediately backed off, yelling "You keep doing that bro, like you not low. He's being mad annoying, he disguised himself to try and blend in."
He didn't try to crash the stream again, but who knows if this will be the last we saw of the Game Awards kid.
Adin Ross claimed that Kai is going to stream on Kick in the near future, but is this legit?
This article contains affiliate links which are marked with [shopping symbol]. These links can provide a small commission for us under certain conditions. This never affects the products price for you.