After getting a taste of Kick, it looks like Adin Ross now wants to sell the freedom of the new streaming platform to his coworkers Kai Cenat, IShowSpeed and others.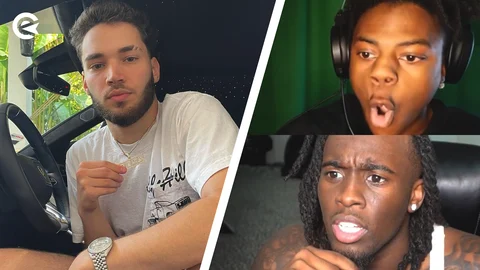 Popular Twitch streamer Adin Ross recently claimed that a lot of big streamers, including Kai Cenat, IShowSpeed, BruceDropEmOff and more, are going to move to Kick. Kick is the latest rival to Twitch, it's a livestreaming platform that promises a lot more freedom for content creators.
Adin Ross Claims IShowSpeed, Kai Cenat & More Are Set To Move To Kick
After Twitch threatened him with an indefinite ban, Adin Ross has become one of the biggest proponents for a mass streamer migration away from the platform to their competitors, Kick. An influencer-exodus, if you will.
He was first threatened by Twitch around the time of the Super Bowl, and posted a video on Twitter blasting Twitch for trying to silence him.
After posting this, he went live, explaining that he will be streaming on Kick for a week to watch live sports and just overall do a lot of stuff that is against Twitch's Terms of Service.
"There are no Terms of Service over there. You guys can say whatever you want in my chat. Nobody can get f***ing banned".
Even though he seemed plenty excited about Kick, after the first week he was already complaining. Apparently Kick will have to pay him more money, for him to switch full-time.
Well, maybe he got the money he asked for, because during his February 17 broadcast he was doing quite a bit of promo for the Twitch competitor.
Adin Ross says all the big streamers are going from Twitch to Kick. Including Kai Cenat, IShowSpeed, Bruce, YourRAGE and more...

Stating Kick is giving equity and millions to each streamer pic.twitter.com/gCSKJtApcJ

— Jake Lucky (@JakeSucky) February 18, 2023
"Kai's going. YourRAGE is going. Bruce is going. Speed's going. Everyone is going to Kick. I'm just gonna tell you guys now, I don't give a f**k. They're all going bro" he said. "Think about it – the platform cannot fail if everyone goes… I'm not even joking. They're all going. Why would they not go?"
It would be pretty big news if all of these big creators were to leave for Kick, but so far none of the streamers declared their intent to do so. Kai Cenat even denied his claims, saying: "Yo, why is Adin f***king lying?! I'm not going to Kick, buddy."
Even though Kai seems more upset about Adin wearing the same hat as him, looks like he's not too keen on joining him on Kick.
This article contains affiliate links which are marked with [shopping symbol]. These links can provide a small commission for us under certain conditions. This never affects the products price for you.