Multiple videos have surfaced, showing a TikTok video by Hasan Piker being used during a lesson in a college class at USC. Now the popular Twitch streamer himself reacted to the video.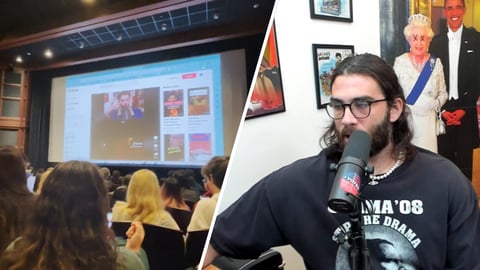 Hasan 'HasanAbi' Piker is by far one of the biggest streamers on Twitch and one of the biggest political influencers out there. Now, one of his TikTok videos was shown during a class at USC, prompting a reaction from the popular content creator.
USC Professor Uses Hasan Piker TikToks For His Lesson Plan

On January 22, 2023, a video surfaced on Twitter, showing a TikTok by the popular political influencer HasanAbi being used in class by a professor.

The tweet has since gone viral, even catching the eye of the streamer in question, who replied with a joke, criticizing the capitalistic educational system in the same sentence, saying "worth the 100k tuition". Truly a communist entertainer to the core!
worth the 100k tuition https://t.co/Jiio8RmAN9

— hasanabi (@hasanthehun) January 22, 2023
Streamers have been pushing their way into the mainstream, and now it seems they are even being used as educational resources by some universities.
In this context it makes sense, though, as the professor in question is part of the USC film school, who is apparently teaching a streaming class as well.
Actually no! I was in this lecture. I'm also in Gordon's streaming class. This class is a completely different one that he is teaching for the first time this semester. All
Cinematic Arts students have to take it, it has nothing to do with his streaming class.

— ZombieMoonlight (@CalderSwiderski) January 22, 2023
It's actually pretty cool to see this, as streaming is just another form of visual presentation and entertainment that might be useful for film students.
It looks like some people think differently though, calling it a waste of the tuition fee and arguing that you can just watch the content for free.

In the end, it is up to the professor to choose how to teach his classes, but the fact that Hasan's videos are being used to teach has garnered a much larger audience than the professor probably intended.