More Jake Paul x Mike Tyson antics are on their way, with Tyson bad-mouthing Paul and saying that he would "beat his ass" in any potential boxing match.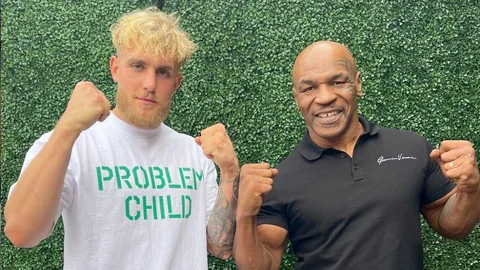 After weeks and months of speculation, Mike Tyson has spoken out about the Jake Paul x Tyson rumors. Whether the two will fight or not is still up to be seen, though we have a pretty interesting opinion on that matter, but one thing is for certain: if it did happen, it would be boxing, and it would be one hell of a fight!
Now it seems that Mike Tyson is sending a pretty grave warning to the younger of the Paul brothers. On Tyson's Podcast "Hitboxin' with Mike Tyson", the former professional boxer spoke out about the rivalry, saying that he would "beat his f**king ass".
"I'm going straight at them", Tyson said to UFC star Israel "The Last Stylebender" Adesanya in an interview on the podcast, after he was asked about a possible fight with Jake or Logan Paul. Such a fight would actually be the first for Tyson since he fought Roy Jones Jr. back in 2020. That fight was also a tie, so he is well aware of the need to get up in shape.
Mike Tyson Speaks Out About Jake Paul Fight
Tyson believes that it would only take him about a month of training to be in the right shape to take on Jake Paul. In fact, he believes that he could "fight anybody" with this amount of training. Whilst this is not a confirmation that Mike Tyson wants to fight either of the Paul brothers, but it does imply that he is at least considering it.
Speaking of the potential fight, and how he would get himself prepared, Mike Tyson said the following:
I'm not going to underestimate them either but I'm going to be in shape, that's the thing you've got to do is be in shape. I think 30 days of boxing I could fight anybody, 30 days of boxing every day. If I'm boxing every day in the gym I don't have to worry about my diet, I'll eat whatever I want.
So, what do you think? Will Jake Paul fight Mike Tyson and – if so – how would he hold up against this boxing legend? I mean, Tyson truly is a martial arts legend, and someone whom people very much look at as one of the best fighters of all time. Jake Paul might be young, but does he have the skills required to take on such a fighter? We're not so sure...