Belle Delphine rather abruptly disappeared from the social media landscape a while back, and Pokimane thinks that there isn't really any point in her returning.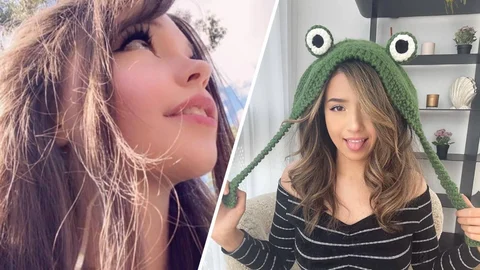 After completely disappearing from social media a few months ago, many are curious about when we'll be seeing the re-emergence of Belle Delphine. This OnlyFans and social media star once netted more than a million dollars a month from her various ventures, but it seems that she has got a lot out of her year break and there isn't really much point in her returning.
Pokimane agrees with this assessment too, with a video posted to her YouTube channel seeing her comment on Belle Delphine's disappearance and saying that she doesn't really need to return anyway. Whilst Delphine has previously taken breaks, this complete absence has fans worried and those of us who want to see her move on from a career that saw her sexualized to an extreme, pleased that she may be moving on.
Belle Delphine defined the meta for a good long while, much in the same way that Amouranth has over the last year or so. The latter star even copied Delphine's idea of selling bathwater for extravagant prices, and innovated with fart jars to great success (though, Ludwig wasn't impressed...). All good things must come to an end, though, and it seems that the Belle Delphine days are long gone.
Pokimane Thinks that Belle Delphine Doesn't Need a Comeback
In a video posted to her YouTube channel, Pokimane has weighed in on Belle Delphine's hiatus, saying that she doesn't need a comeback. In the end, she said, Belle Delphine came in at just the right time and made a splash with her sexual content and bizarre social media posts. She's a millionaire now, and is kind of "set for life".
I think before, there was a reason for her to come back, and now there just isn't... there isn't a monetary reason, because she's already made a tonne of money. There isn't an intention kind of reason, because not as many people are interested.
It is a bit of a trend at the moment to see these massive OnlyFans stars migrating away from the sexualized content that made their careers. Earlier this week, Amouranth even announced that she is quitting OnlyFans. We are inclined to agree with Pokimane on her assessment of Belle Delphine, though, it really doesn't make sense for her to come back.
She's already kind of done it all. She said that her year away went really well and honestly, internet stuff can be really stressful. I'm sure she feels like, 'I don't need this.' I guess she will come back after she spends all that money.
As Pokimane then went on to point out, though, on $1 Million USD a month you could live off of six months worth of work for the rest of your life, if invested correctly. Belle Delphine will likely focus on this, find something more fulfilling, and move on with her life. Honestly, if this is the go, then all the power to her...