While Stranger Things, House of the Dragon and Wednesday took the television world by storm in 2022, but all of those shows were beaten out by an anime according to stats from TV Time.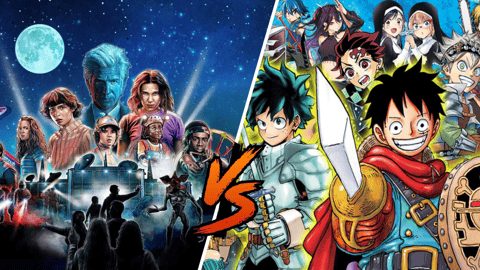 Stranger Things was the hit show of 2022. Everyone and anyone talked about it, followed shortly by HBO bringing us back to Westeros in the House of the Dragon. Those shows were great and all, but they should all step aside, because they aren't the most viewed shows of 2022.
Viewers can track their binge-watching with TV Time and they've tweeted out the kings and queens of 2022 and well the top spot was actually an anime, not a live-action series.
Anime Beats Out Top-Performers for Most Viewed Show of 2022
TV Time is a multi-platform TV tracking site that lets viewers know what they've watched, how long they've watched and then share it with others as well to find like-minded television viewers. With so much data worldwide, TV Time has now revealed the top dog of 2022.
According to TV Time data the most viewed show of 2022 was not Stranger Things, neither was it House of the Dragon. Instead, it was none other than the anime adaptation of Eiichiro Oda's masterpiece One Piece.
Of course, we have to say that One Piece has around 1,040 episodes which makes up around 381 hours of available watch-time while Stranger Things, which landed in second place, has a mere 35 hours when counting all four seasons. The differences are staggering.
A moment of silence please...
To think though, that One Piece is the most popular show of 2022 is still insane. The manga has just entered its final arc of Monkey D. Luffy trying to become the pirate King this year, which could have also added to the hype of the show, as well as a successful movie release with One Piece Film: Red.
On the other hand, Stranger Things was the most successful Netflix original in second place. With one more season to go, we could see Stranger Things at the top of the podium by the end of 2023.
Most viewed shows in 2022:
One Piece
Stranger Things
Grey's Anatomy
The Office
House of the Dragon
The Walking Dead
Luffy Only in Third Place For Top TV Characters
While One Piece took the cake with most watched show in 2022, the protagonist of the show only managed to reach third place, with Jenna Ortega's Wednesday Addams earning her number one spot on the list, while Millie Bobby Brown as Eleven is second.
Once again, Stranger Things wasn't able to take home the gold medal, but the series is consistent with their second-place finishes.
Of course, this is just the data from people who use TV Time, but it's interesting to see just how popular anime has become in recent times with it becoming more and more mainstream. Hell, even Disney+ has started to pick up anime series, though they're still having trouble with simulcasting their shows with the original Japanese dates.
This article contains affiliate links which are marked with [shopping symbol]. These links can provide a small commission for us under certain conditions. This never affects the products price for you.