Demon Slayer Season 3 is on its way, so here is everything you need to know about a possible release date, cast, plot and more.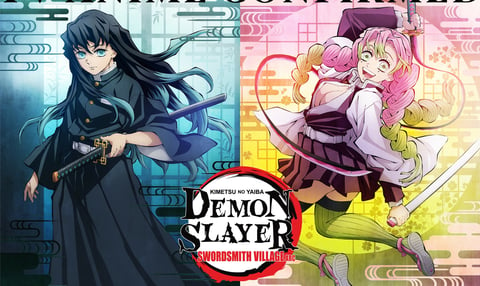 Demon Slayer has fought its way into our hearts, ever since season 1 released, all the way back in 2019. Now we were able to enjoy a movie, a second season and are desperately waiting for a third. So when is it going to release and what will it be about?
The first two seasons as well as the movie really excelled at their awesome visual effects, epic battles and a heartwarming story that brought the series into the mainstream. So when can we expect the continuation of this masterpiece?
Btw. if you wanna refresh your memory, before starting into the third season, you can buy the Manga here.
Demon Slayer Season 3 Release Date Prediction
If we look at the production pattern of Ufotable, the anime studio behind Demon Slayer, we can expect a 12-month gap between the end of season 2 and the release of season 3.
As the Entertainment District Arc wrapped up in February 2022, we should be able to hope for a release in early 2023 on Crunchyroll.
This makes all the more sense, because the official social media account for Demon Slayer is already pumping out promotional material left and right, and we already got a trailer, revealing the next Arc.
The trailer already introduces us to a new set of characters, we can expect, besides our main cast.
Demon Slayer Will Feature Two Hashira In The Upcoming Arc.
As we can see in the trailer, this season Tanjiro, Nezuko, Inosuke and Zenitsu will be joined by not one, but two Hashira in the upcoming Arc.

Fans of the franchise will finally be able to witness the greatness of the Mist Hashira, Muichiro and the Fan Service, uhm, I mean, Love Hashira, Mitsuri.

Muichiro has a lot of hype coming into this season, as prior to his official appearance in season 3, he got introduced to us as a person, that became a Hashira in two months. That's just crazy! I mean, that's literally the amount of time, Tanjiro was knocked out for, after the final battle of season two! Yes, that's true, I've read the Manga.
Then there is the Love Hashira. Guess I don't have to explain to anyone who has seen the show, that this woman is pretty much fan service incarnate. So yeah, that's enough of a reason to be hyped for her.
Oh, and remember that angry looking dude from the Final Selection exam? Well, he's all grown up now and will be a major supporting character this season.
Not to forget, we are finally going to see all the Upper Moons. Maybe not all of them in action, but we're going to see all of their faces! I mean, what did you expect? There is still like 3 Arc's to go.
What Will Be The Plot In The Swordsmith Village Arc.
Regarding the plot, we know that season 3 will pick up straight after the conclusion of the final battle between the Demon Slayer Corps and Upper Moon 6 Gyutaro and Daki.
Tanjiro and the others will be heading towards the Swordsmith Village, because he trashed his beautifully crafted Katana... again. I'm with Hotaru at this point!
There, they obviously are going to encounter some more Demons and probably an Upper Moon as well, not gonna spoil anything so if you wanna know, read the Manga (It's chapter 100-127).
And There you have it, all we know so far about season 3 of Demon Slayer, hope you are as hyped as I am.
This article contains affiliate links which are marked with [shopping symbol]. These links can provide a small commission for us under certain conditions. This never affects the products price for you.