We took a closer look at the FIFA 23 87+ Hero Pick SBC and tell you if you should complete it. After all, you do get a Hero card. We show you the cards you will want to pick from the SBC and the ones that should hopefully not appear on your screen.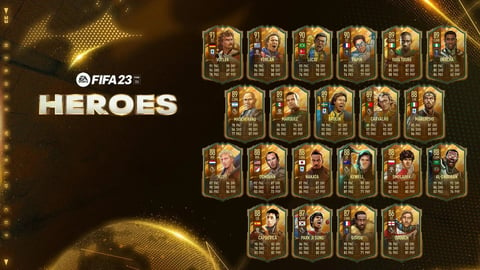 This SBC should perhaps trigger us a bit. I mean, the Team of the Year is just around the corner, and there's bound to be one or two SBCs where we can make good use of our 85 and 86 cards. So is it worth it to complete this SBC? We'll get to the bottom of it and show you if the SBC is worth it.
Before the Team of the Year starts, you can get a PS5 Controller here.
87+ Hero Player Pick
The crucial question is, what can you get out of the player pick? You can pick a base hero or a WC Hero. And there are a few goodies in there. However, there are also a few cards that are not even remotely worth the SBC.
So of course you are left with the question: is the SBC worth it, or is it not worth it at all? To clarify this, we need to take a look at what requirements the SBC has and who we can pull in the best and worst case scenarios.
The Requirements
To complete the SBC, you must build 3 teams. An 84-OVR team, an 85-OVR team and an 86-OVR team. So you'll need a lot of players who have an OVR greater than 85, and as we all know, they're not that cheap.
Currently, 85 cards are 15,000 coins and up. So if you want to complete this SBC without any players from the club, you will have to spend 250,000 coins. A handsome price, considering that Peter Crouch could be the one smiling at you from your screen.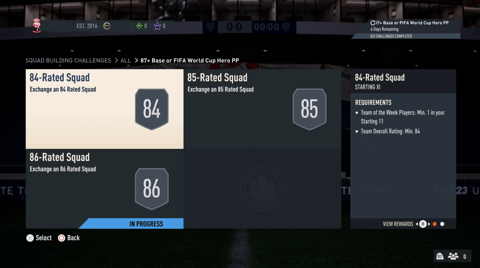 Possible Rewards
The best Heroes you can draft are WC Heroes Rudi Völler, Lúcio, YAYA Touré, Jay-Jay Okocha or Thomas Brolin. But also Claudio Marchisio, Said Al-Owairan, Landon Donovan, Harry Kewell and Wlodzimierz Smolarek are good picks, with value higher than the SBC's price.
There's no way you want to draft Peter Crouch, Jorge Champos, Clint Dempsey, Tim Cahill or Rafael Marquez. That's not worth completing the SBC for at all. In between, of course, there are a whole lot of other cards that are kinda meh, to be honest. I don't know if I would be excited about a base Ricardo Cavalho. In any case, you want to draw a WC hero, the only question is whether EA will indulge us.
Is the 87+ Hero Player Pick SBC worth it - Our conclusion
It's perhaps the last chance to draw a WC Hero. Of course, that shouldn't be discounted, but if we're honest, we'd rather save the cards and coins for the Team of the Year.
Yes, the SBC can still be worth it with a little luck. It's a player pick with 3 players and three absolutely crappy cards EA won't push us, right? So if you're up for a Hero and have enough players lying around in your club that you'll never play anyway, then take your chance. For everyone else, keep and save coins and high-rated players for the Team of the Year.
This article contains affiliate links which are marked with [shopping symbol]. These links can provide a small commission for us under certain conditions. This never affects the products price for you.