FUT Showdown was a nice change from the usual FIFA events and provided us with a ton of SBCs. Today, we present you the best players from this particular promo.
If you had taken a look at the FUT calendar a few weeks ago, no one really expected a Showdown Series. Usually, EA Sports releases these SBCs only sporadically and doesn't turn them into a real event.
Nevertheless, Showdown SBCs in FIFA are always pretty awesome. Just like some other events in FUT, they are linked to real life match results. Short recap in case you started your FUT journey: If their team wins, the player gets a +2 Upgrade, while a draw improves both cards by +1. Easy, right? So let's take a look at the best FUT Showdown cards in FIFA 22!

The Best FUT Showdown Cards In FIFA 22
Since the start of the event, EA Sports has released at least one SBC every day – that adds up quite fast. We especially like the fact that they choose different players to give strong Special Cards to this time around. We've already seen enough of meta players like Raphaël Varane, Kylian Mbappé or Presnel Kimpembe.

Among the more interesting players are Martin Braithwaite (FC Barcelona) and Marcelo Brozovic (Inter): Both didn't have a special card in FIFA 22 prior to the event, and both can look forward to a +2 upgrade. Especially Braithwaite should be extremely strong with his new rating – 95 Pace, 92 Shooting, 93 Dribbling... add 4* Skills and 4* Weak Foot on top of that, and you've got yourself an amazing striker. Wow. It's lovely to see that you can play such "off-meta" cards in the Weekend League thanks to the Showdown event.

Martin Braithwaite would probably be the best player of FUT-Showdown, if it hadn't been for someone else
Wout Weghorst Is The Best FUT-Showdown Player
Yep, you read that right: Wout Weghorst is the best FUT Showdown player in FIFA 22. Who would have thought that a 6'6" tall player would dominate the meta in Ultimate Team like Wout Weghorst? The ex-Wolfsburg player can do it all, just take a look at his in-game stats: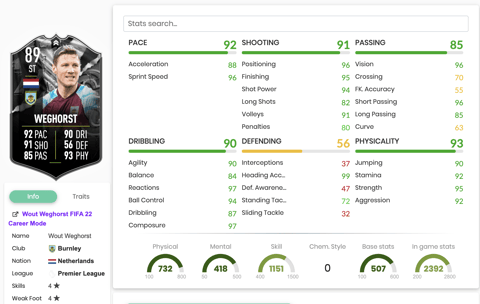 92 Pace, 91 Shooting, 90 Dribbling, and a staggering 93 Physicality... these stats combined with 4* Skills and 4* Weak Foot, just wow. That's just his basic version, by the way... Burnley won their match against Everton 3-2, so Weghorst will definitely get his +2 Upgrade. Wanna see what his card looks like then? Well, here ya' go... this tweet actually sums it up pretty well.

With around 318K coins, Wout Weghorst is currently also one of the most expensive Showdown players and costs significantly more than the gold cards of Messi or Ronaldo. Let that sink in for a minute... Weghorst > Messi + Ronaldo. FIFA 22 be crazy.

However, there is a good reason that the Dutchman is so expensive. Sure, we just talked about his stats, but there is more. In fact, Weghorst is currently being hyped by the community. How many times have we stumbled across Reddit threads stating that Weghorst is the best SBC in FIFA 22... we'll tell you, it happened more than once, and that's saying something.
We really hope that you completed the Wout Weghorst SBC when it was available in FUT. And even if you didn't, you can still look forward to the next FIFA event – it's always right around the corner and, as usual, we have all the information about it.