FUT Birthday has brought a lot of new content to FIFA 23 Ultimate Team – including a new 88+ Icon Player Pick SBC. A surprising move from EA, but a welcome one. We show you the best and worst players you can pick and whether you should complete the SBC.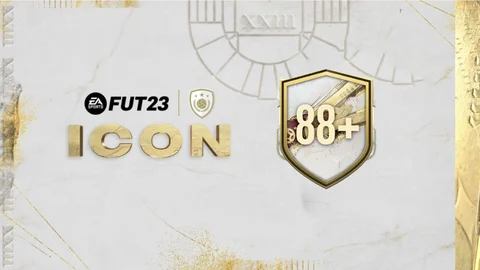 The FIFA 23 FUT Birthday Promo is in full swing! Besides FUT Birthday Team 1 and the Swap Tokens a 1 of 3 88+ Prime, Mid or WC Icon Player Pick SBC was released. At the same time, "normal" Icon SBCs are also available for a similar price. Is the player pick worth the risk? We have the answers!
FIFA 23 currently offers a lot of content, so the community can't complain to EA. For example, there are the Daily Login SBC, FUT Birthday objective players, Swap Tokens, Icon SBCs and the Icon SBC Player Pick. At the same time, you get good Fodder from all the objectives and milestones. But where to put all the cards? Into a gamble SBC?
FIFA 23: 88+ Prime, Mid Or WC Icon Player Pick SBC
We were admittedly surprised to see EA release a player pick that includes WC Icons and Prime Icons so early as part of FUT Birthday. Now, of course, the assumption is that the pack weight won't be outstanding. The minimum 88 rating effectively excludes no Prime Icon at all, so you can get the full player pool. Which is not good, because there are significantly more Prime Icons that cost a lot less than the SBC. And we're talking about the Prime Icons, the Mid Icons are of course much worse. You should be happy if your player pick includes a World Cup Icon, because they have a dynamic image (which is a W) and a rather small player pool.

The price of the SBC has settled at around 480,000 coins in the course of the evening. That's quite a price. We will show you in detail how big the chances are that you will come out of this SBC with a profit. If we look at the current player SBCs and see Zambrotta Prime for a similar price, we're not sure if the gamble SBC is worth it. At the end of the day, it all depends on your pack luck anyway.

We hope you don't need a new controller after this weekend. If you do, you can find a new PS5 controller here.
88+ Prime, Mid Or WC Icon Player Pick: The Requirements
Let's face it: the SBC is damn expensive and there are few cards more expensive than the SBC that can strengthen your team. But first, here are the requirements:

You have to trade one 86 OVR team and two 87 OVR teams, and you still have to give up an in-form on the final squad. Phew...
Best And Worst Players Of The 88+ Prime, Mid Or WC Icon Player Pick SBC.
As you could probably guess, the likelihood of drafting a good player is relatively low. The "88+" requirement unfortunately hardly excludes any players, so you have the following scenarios:
Out of 100 Mid Icons, 19 players are worth more than the SBC
Out of 33 World Cup Icons, 11 players are worth more than the SBC

Out of 100 Prime Icons, 30 players are worth more than the SBC

This results in a ratio of 60 to 233. We don't find that good at all. And we'll tell you why in a moment.

The best players are of course all variants of R9, Pelé, Zinedine Zidane, Jairzinho and Co. Packing one of these superstars would boost your team until the end of FIFA 23. That's always the tempting thing about such gamble SBCs. On the one hand, there is the possibility to pack a really rare card.

On the other hand, Michael Laudrup, Hernán Crespo and Gary Lineker are waiting for you. These are only a few of the "bad" icons you can get. It somehow always hurts to call such legends bad just because they are not playable in FIFA. But unfortunately that's the way it is.

You can already look forward to the Player Pick which contains 3 of 3 Mid Icons.
1 Out Of 3 88+ Prime, Mid Or WC Player Pick SBC: Is It Worth It?
Our opinion is quite clear: Hands off this gamble SBC! We have already put many coins into such SBC in the past and always received a L. You can do so much better with almost 500k coins! Sure, there is a chance of an ultra rare W. But you also have to be given a prime icon to choose from first PLUS it has to be good and playable. I don't know.

Better look at the best icon SBCs in FIFA 23, we recently added Zambrotta, Cruyff and Rivaldo. Better put your fodder into an icon SBC you know what you'll get out of it. The players just mentioned all fit the meta and are playable up to TOTS.
This article contains affiliate links which are marked with [shopping symbol]. These links can provide a small commission for us under certain conditions. This never affects the products price for you.