When the TOTY went live the term "Alternate Realtiy Icon" was discovered in the FIFA 23 source code. But what are these new icons all about? Do they replace the Moments Icons in FUT? We explain it to you!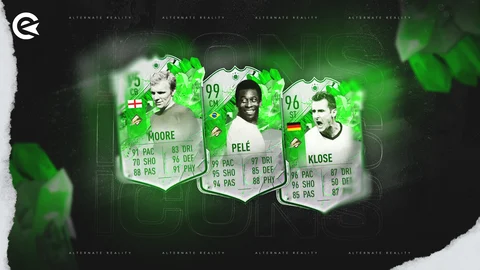 The Alternate Reality Icons could be one of the best promos after the Team of the Year in FIFA 23. But as of yet, no one knows exactly which players are coming, let alone when the promo is coming at all. But we have some ideas.
The first leaks about the Alternate Reality Icons were during TOTY time, at that time this term was found together with the TOTY Icons in the FIFA 23 source code. The TOTY icons are really cool, the card design alone was really great. We hope that the Alternate Reality Icons will have a similarly good promo.
FIFA 23: Alternate Reality Icons Leaks Explained
What exactly the FIFA 23 Alternate Reality Icons are we can't say at the moment. We only know that these new icons will come, but that's it. But we have some thoughts about what an alternate reality could be. If EA would put one of these suggestions into practice, that would be really nice.
Just added to the webapp code pic.twitter.com/fO5YZ6uy36

— Fut Scoreboard (@Fut_scoreboard) January 9, 2023
What is certain is that the TOTY and Alternate Reality Icons are the "new" Icon Moments. We won't see the classic Icon Moments in FIFA 23. And honestly: We can do without them if we get good Alternate Reality cards. But there will be a catch, and that was already the problem with the TOTY Icons: The cards will be so expensive.
For comparison: TOTY Icon Ronaldinho is extinct! His price range is at around 15,000,000 coins and the card is not on the market. These players are extremely rare and also impossible to get for "normal" players, unless you have extreme pack luck.

Alternate Reality Icons Predictions: Unplayable Cards Become Playable
We all know the problem. You give away all your fodder for the 89+ WC or Prime Icon SBC. The pack opens. England. Centre-back. 92 OVR. Bobby Moore. L. And that's despite packing a 92-rated player. But what are you supposed to do with 68 pace in the current meta? That's right, nothing. As sad as it is, Moore is good fodder at best. That doesn't do such a legend justice at all. This is where Alternate Reality Icons come in.
In an alternate reality, Moore could have more than 90 pace! This would make the Englishman not only playable, but immediately turn him into one of the best centre-backs in the game. There are about 50 icons in the game that no one wants in their team, even though these players are some of the best footballers of all time. Miroslav Klose is the record goal scorer of the World Cup, but his Prime Icon only costs 100k because he is just too slow and too sluggish.
This promo would be the chance to boost cards that are hardly played. Klose with 96 pace and 96 shooting would be played straight away. Laudrup, Scholes, Lampard and Gerrard would also be examples. EA, give these legends an awesome, playable card! Gladly taken with a skill and weak foot upgrade too.
Alternate Reality Icons Could Get Position Changes
Position changes for icons would remind us of the Shapeshifter promos of the past years. Pelé doesn't have to be converted directly from striker to goalkeeper now, but why shouldn't Pelé be able to be played as a central midfielder? In an alternate reality, anything is possible!
Or think about winter wildcard Karim Benzema, this card is an absolute banger as a CM. We can also imagine something like that for icons. It doesn't have to be wild position changes. EA could also simply put ALL available positions on the cards, so that you have completely new possibilities in team building. In this promo we would also prefer players who are not often played. So please no Jairzinho, thank you!

Alternate Reality Icons: What if...
What if Liverpool FC had not won the 2005 Champions League final in Istanbul? Would AC Milan have got much better cards? Would Kaká have been able to become world footballer more often? It's a day dream, but in an alternative reality it would be quite conceivable. In AC Milan's starting line-up we find eight (!) FIFA 23 icons. Many of us would use Kaká if he had a 95 OVR. The same goes for Clarence Seedorf, Gennaro Gattuso and co.
Alternate Reality Icons could therefore be players who narrowly missed out on a major title in their career or were slowed down by serious injuries and thus never reached their full potential.

Those were our three predictions about the Alternate Reality Icons in FIFA 23. What do you think about these suggestions? Which cards are you looking forward to? Or do you have new ideas for this upcoming promo? Feel free to write us in the comments.

This article contains affiliate links which are marked with [shopping symbol]. These links can provide a small commission for us under certain conditions. This never affects the products price for you.