FIFA 23 has a lot of variety to offer. You can play both online and offline - in single or multiplayer. We show you all the game modes in FIFA 23.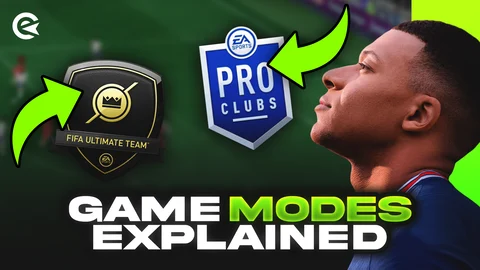 FIFA 23 offers eleven different game modes, which are in turn divided into further categories. In Ultimate Team, you can create your own team with your favourite players and play dynamic cards. If you see yourself more in the manager role, then the career mode is just right for you. If many of your friends are online, then you should play Pro Clubs. In this article we explain all FIFA 23 game modes and how they work.
You definitely won't get bored in FIFA 23, the game has too many different game modes to offer. No matter if online or offline, the football simulation by EA Sports has something to offer every football fan. Today we show you what you can experience in FIFA 23.
All Game Modes In FIFA 23
To keep the overview we will show you all game modes at first. After that we will have a look at every single mode in detail.
Kick-off
Training Centre
Skill Game

Tournaments
FIFA World Cup

Career mode
Seasons

Online friendlies
PlayStation Tournaments

Pro Clubs
VOLTA
Ultimate Team

We will start with the offline modes, as these are the best for beginners to get familiar with the game. We don't want you to get shot down in every game in Ultimate Team and lose interest in the game so quickly.

FIFA 23: Quick Play Modes

If you select "Quick Play Modes" in the main menu, you can play the following modes: Kick-off, Friendlies, Tournaments, Skill Games, Training Arena and PlayStation Tournaments. Here you can learn all the basics you need to become a good FIFA player.
Kick-off

In the kick-off mode, you can either play alone against the AI or in local co-op against your buddies. All licensed teams in FIFA 23 are at your disposal. Simply pick up the controller, press "classic game", select your favourite team and off you go.

If you want a bit of variety in kick-off mode, you can set up different rules for the game and play various licensed competitions. This is possible in the sub-categories "House Rules", "VOLTA", "UEFA Champions League", "CONMEBOL Libertadores", "Home & Away" and "Best of Series". In the licensed competitions you get to see all the original designs, clubs and players of the Champions League and Libertadores, a really cool feature. House Rules is really fun because you have, among other things, NO rules. There is no offside, no fouls, nothing. When you play against friends, it's really fun.

Up to four players can play FIFA 23 Kick-Off at the same time. So make sure you have four controllers at home or your friends bring one.
Skill Game
The perfect training for beginners. In the skill game mode, you'll learn all the basics you need for playing FIFA. Here you learn how to pass, shoot, dribble, defend and play goalkeeper. You earn points for each challenge. The better you get, the higher you climb in the leaderboard. You can compete with your friends or players worldwide for the highest scores. The players you control ingame in this mode are the best in their position from your favourite club.

Training Arena

In the training arena you can use the skills you have learned in the skill games. Here you play a 1v1 against the goalkeeper. The training arena is perfect for practising skills, free kicks and penalties. There is no time or opponent pressure, you have the whole pitch to yourself.
You can choose your goalkeeper and your pro beforehand. We would recommend a 5-star skiller like Neymar Jr. or Kylian Mbappé to really perform all the tricks. Mbappé is the default pro as cover star.

Tournaments
In this mode there are also different categories. The coolest is "Own Tournament", because here you can - as the name suggests - have individual teams play against each other in a tournament. You can set the number of teams, the group and knockout mode and the teams according to your wishes. Here you can create your own Super League, there are no limits to your creativity.
You can also play all licensed tournaments such as the Champions League, the women's internationals, the DFB Cup, the Emirates FA Cup and many more. Besides all the cup competitions you can also play all the leagues included in FIFA 23. So if you only want to play one season and you don't care about the development of the talents, you can do it in the tournament mode and you don't have to start a new career.
PlayStation Tournaments
PlayStation Tournaments is a new mode in FIFA 23. In cooperation with Sony EA has added an online tournament to the game where you can even win real money in the form of FIFA Points. You can play the PlayStation Tournaments either in Ultimate Team with your team or with teams in kick-off mode. Read the description beforehand, it will explain exactly what time the tournament takes place, how much the prize money is and which mode is played.
This tournament is a good way to earn FIFA Points. However, only a small amount is paid out to the winner and the field of participants is often filled with strong players. If you win the tournament, you have to wait a few days or weeks until the FIFA Points are on your Ultimate Team account.

FIFA World Cup
The World Cup 2022 in Qatar is already history, but you can still play the FIFA World Cup mode in FIFA 23. Here you can replay the tournament either online or offline, all 32 teams are available. The entire mode also has the official design of the FIFA World Cup, all nations and their players are licensed. Spoiler: Argentina won the World Cup.
FIFA 23: Career Mode

The career mode has been one of the most popular game modes in FIFA for decades. Unfortunately you can't play the career mode online yet, but according to rumours EA is planning an online career mode for the new EA Sports FC 24.
But back to FIFA 23: The career mode should be your next step if you don't feel like playing the skill games, kick-off or the training centre anymore. You can adjust the difficulty of the AI to your skill and also change it during the season if it should be too easy or too difficult. This mode is about you managing a team for years or decades, developing talents, making transfers and winning the Champions League and all national titles at the end. Be sure to check out the talents with the most potential to buy the best young players early in their career before they are too expensive for you in a few years. The career mode is most fun when you start with a small club and little budget. Here you have to build something and manage cleverly, which is a cool challenge. If you start directly with Bayern Munich or Paris Saint-Germain, you already have all the resources at your disposal. Boring.

The career mode is a dynamic mode, meaning that the overall rating of the players can change. This depends on various factors, for example the playing time, the performance and the age of your player.
You can start your career either as a player or as a coach. As a player, you control your own pro, but have little influence on the outside, such as whether you are in the starting eleven or whether another club wants to buy you. As a coach, you control the entire team, you have to take care of transfers, training and contracts. If the board is no longer satisfied with you, you will be fired.
FIFA 23: Friendlies
Is nothing more than the possibility to play online against your friends in a 1v1 match with licensed teams. The goals and won games are added up. Whoever collects more points in a season can be crowned champion by his buddy.
FIFA 23: Seasons
Seasons or Co-op Seasons is an online game mode that you can only play with licensed teams, i.e. Manchester United or 1. FC Kaiserslautern. Matchmaking is based on the star rating of your team and your league. In Seasons, you start in Division 10 and the goal is to advance to Division 1 and win the title there. If you play with a buddy, you play co-op Seasons and start in Division 5.
We would recommend you to always play with a 5-star team, because sometimes the matchmaking doesn't work properly and you play with Borussia Mönchengladbach against FC Barcelona. Seasons is the perfect mode to get familiar with playing online in FIFA 23. Here, the opponents are initially at your level and only get better in the higher leagues.
Pro Clubs x VOLTA
Pro Clubs is the funniest mode in FIFA - there are no two opinions about it. Up to 22 players can completely disfigure themselves and run after the ball like little kids. First of all you have to create a Pro, here we have a detailed article on how to get your Pro Clubs player on Lengthy. You can create the club just the way you want it, design jerseys and invite your mates - and you're ready to go. Here we show you all the tips and tricks to level up quickly, the best perks and how you should distribute your skill points in Pro Clubs.
Similar to Seasons, you have to fight your way through to the championship title in Division 1 with your team starting in the tenth division. You can play any position on the pitch with your pro, but beware: as a goalkeeper, you only get the hate of your team-mates if you let a ball pass. But that's not a bad thing, because in Pro Clubs the focus is really only on having fun. The more players there are in your club, the more exciting it gets. Especially the 11v11 matches are really fun!

Volta is the FIFA Street mode, which you can play either offline or online in single or multiplayer. Whoever has the best tricks up their sleeve is the hero. The Volta skills and animations are a cool change from the "normal" gameplay. Volta is also a suitable mode for a local party at your home.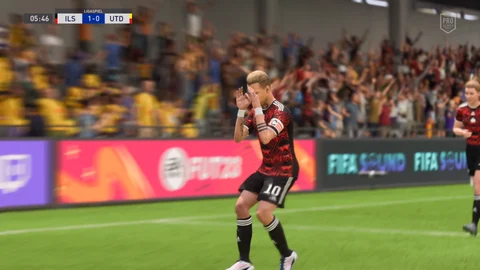 In FIFA 23 Pro Clubs and Volta were merged as a mode. Volta was played too rarely in the past and by playing Pro Clubs and or Volta you get XP with which you can buy cool cosmetic items. You can tattoo your pro, grow funny beards or give them the wildest hairstyles. Some of them are compatible with both Volta and Pro Clubs. And remember this: the ugliest pros are usually the best in-game.
Ultimate Team
FIFA Ultimate Team is the most popular game mode in FIFA 23. Here you start with a bad team which you have to improve by grinding. You can't play licensed teams here, you have to build a team out of licensed players and legends. There are all the players you will find in the kick-off mode, but each as a single card.
You can play superstars like Lionel Messi and Cristiano Ronaldo, but you have to either earn them, buy them on the transfer market or draw them from a pack. The packs can be bought with real money via "FIFA Points" (yes, pay to win) or earned. By playing and exchanging items from the packs you receive the ingame currency "FIFA Coins", which you can use to buy cards on the transfer market.
The transfer market is live, so the players have dynamic prices that change every day. The better the player is, the more expensive he is on the transfer market. The prices of the cards are based on the FIFA meta. Here you can find good trading tips for beginners and advanced players.

When building a team, you have to consider the positions of the players and the team chemistry. You can't just randomly build a team, otherwise the players have no chemistry and play badly ingame. You get chemistry points if you put together players from the same league, club or nation.
Ultimate Team has many different game modes. You can play offline and online, as single player or in multiplayer. The "Squad Battles" mode is recommended for beginners, because here you play against the AI, whose difficulty level you can set yourself. Every Sunday you get rewards based on the number of skills you have achieved on Sunday morning.

Division Rivals, FUT Champions and the associated Qualifiers are the online-only game modes in FUT. You should really only start playing in these modes once you have assembled a reasonably competitive team. In the beginning you play against similar teams, but after a while the matchmaking changes to skill-based matchmaking.
These are all game modes in FIFA 23. As a beginner you should work through the game modes in the order we have suggested. This way you can build up the necessary skills to be competitive in the Weekend League. If you want to read more details about FUT, just check out our daily content.

Do you have any other questions about FIFA 23? Then write them in a comment below the article!
This article contains affiliate links which are marked with [shopping symbol]. These links can provide a small commission for us under certain conditions. This never affects the products price for you.